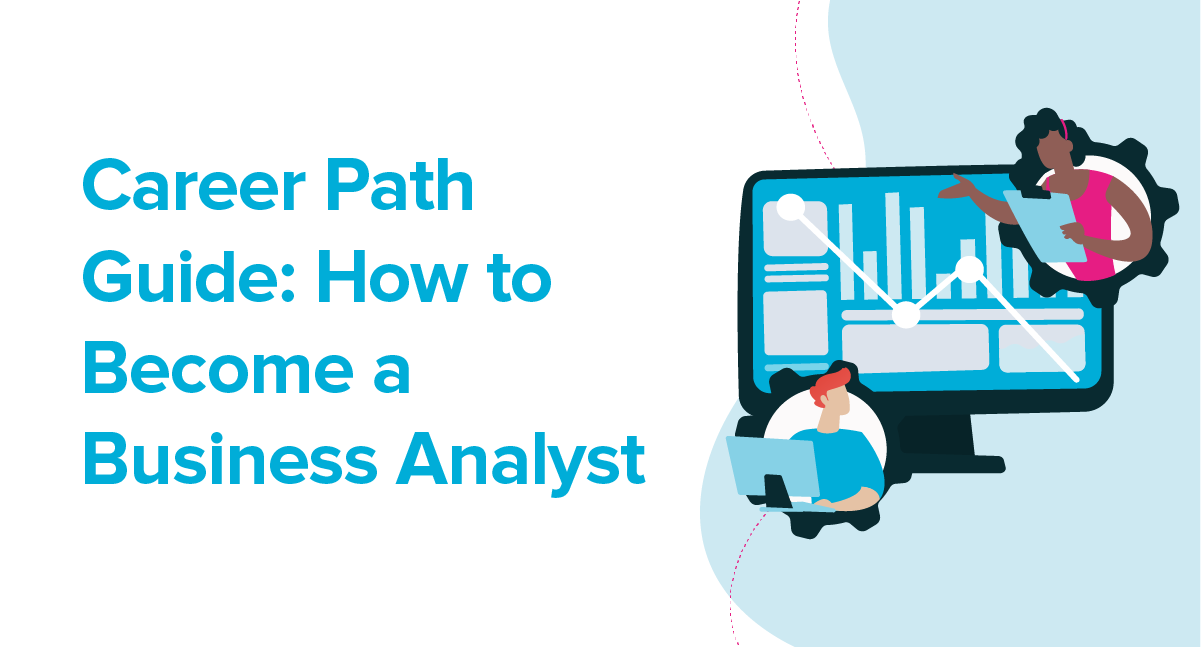 Are you thinking of starting a career as a Business Analyst? We've compiled all the information you need to know from what a business analyst does, education and skills needed, and possible career routes to progression.
What does a business analyst do?
A Business Analyst identifies problems and opportunities within a company and, either by themselves or with a team, provides solutions to help the business achieve its goals. Often this is achieved with the support of technology, such as IT or software systems.
An analyst uses these software systems to document all business information types, such as its processes, business models, or technology integrations. The information gathered is used to develop strategies that will help solve problems such as cost optimisation, project management, improving productivity or creating reporting efficiencies.
Another critical aspect of the business analyst role is communicating these strategies between internal departments and external stakeholders.
Are there different types of business analysts?
Yes, there are loads!The type of business analyst usually depends on the company's needs or requirements from that role. Beloware three common types of business analyst roles that can be found in companies today:
Business Process Analyst (BPA)
A Business Process Analyst focuses on the business side of things like documenting processes, reports, and business opportunities rather than Information Technology.
2. Business Systems Analyst (BSA)
As you can tell from the name, a Business Systems Analyst role is focused on the systems side of things and often works closely with the BPA to create magic.
3. Generalist Business Analyst (GBA)
A Generalist Business Analyst is a combination of the process and systems analyst and may take on the role of team management or, the opposite – can be the person who is just starting and learning which position is more suitable.
How to become a business analyst
In terms of the education and skills needed, a degree in one of the following fields usually proves advantageous when applying for a business analyst role:
Business Studies
Business Administration
Management
Information Technology
If you're looking for a more specific qualification, The International Institute of Business Analysis (IIBA) is a professional association that serves the growing field of business analysis and offers a range of specialist certifications for the aspiring business analyst. 
A good start would be analysing your skills and interests – are you more interested in working with technology and software, or would you prefer being hands-on with business models and processes? If you can't decide, start with a course that takes both of these into account for you to kick off your career in a GBA role.
What soft skills do I need? 
The most common soft skills required of a business analyst include:
Strong communication/interpersonal skills
Problem-solving
Initiative 
Time management
Organisation
Here's a real-life example of skill requirements for this role from one of our clients:
Excellent knowledge of agile/scrum methodologies and tools
Understanding of technical details
Articulating technical and non-technical requirements to stakeholders
Ability to work in a fast-paced environment
Strong knowledge of the business process and IT systems
Able to define problems, collect data and establish a solution
Strong communication skills
What can you expect from a day in the life if a business analyst
A Business Analyst job description should cover collaborating with financial reporting and IT teams to develop initiatives and strategies that optimise costs and improve internal and external reporting.
Your responsibility will be to create a detailed business analysis, outlining problems, opportunities and solutions for the company. Tasks will include but are not limited to:
Budgeting and forecasting
Planning and performance analysis
Financial modelling
Variance analysis
Pricing
Reporting 
Research 
The end goal is to provide insights that can range from financial to administrative that will help the decision-making process and align with the company's resources and budget.
How much can I earn as a Business Analyst?
The business systems analyst typically earns more than the business process analysts due to the work being more challenging to learn than process analysis work. There also tends to be a little more pressure than when dealing with processes. Individuals with systems skills are also more difficult to acquire due to the high demand for people with these skills.
According to Payscale, the average salary of a Business Analyst in London is £35,811. Compensation will depend on experience, skills, the position you are applying for and ultimately, the company's requirements.
Let's talk career path…
Business Analysts can work in different industries such as finance, banking, insurance, health, telecommunications, software services and government – so the sky's the limit. It's up to you on whether you'd like to specialise in a specific industry, move around and get a world view or even add various elements to your role such as operations or software development.
Are you looking for your next role as a Business Analyst? find business analyst jobs with Salt, a global, award-winning digital recruitment agency in London.