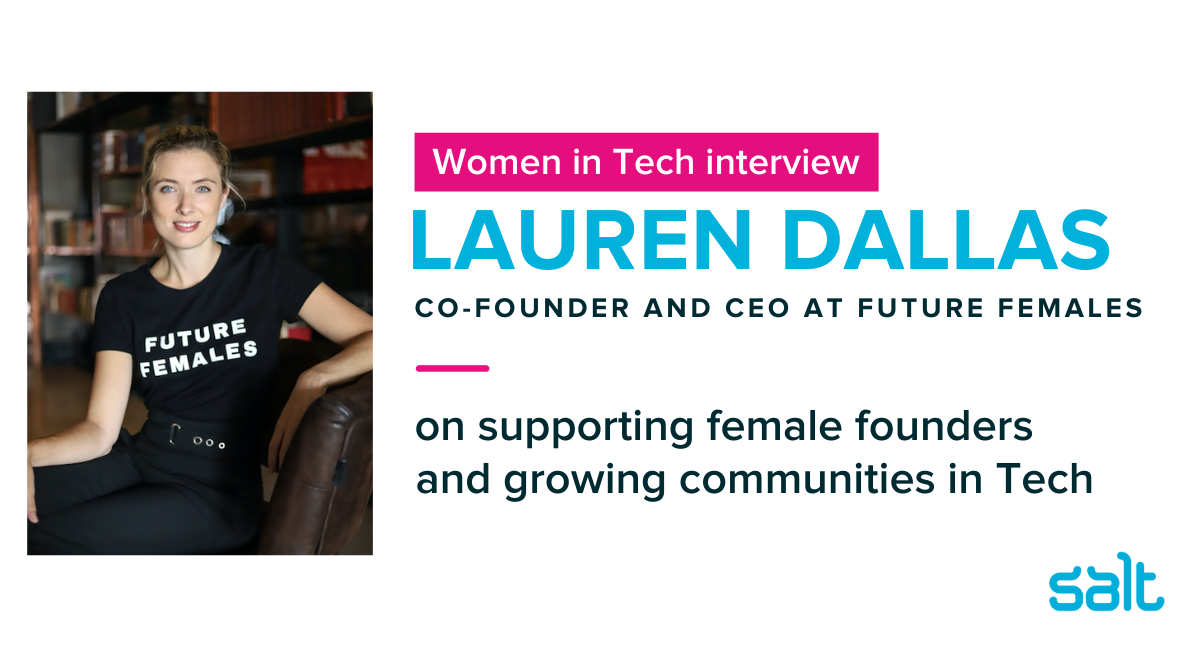 For Salt, a global, award-winning digital recruitment agency's latest Women in Tech interview, we caught up with Leen Madanat, Data Analytics Consultant at KPMG, to discuss getting into data, her best piece of advice, the importance of supportive environments, and more.
What is the most exciting thing about working as a Data Analytics Consultant at KPMG?
The most exciting part is that we have a dual role where we are trusted internally to implement data analytics solutions and externally for our clients. It's very interesting and super busy but it teaches you about managing internal and stakeholder relationships.
What has been your career defining moment that you are most proud of?
My first job was my career defining moment. I was the first Data Analytics person hired into that role. During my first analysis that I presented to the CEO, we broke a preconceived notion which was a great achievement for me. It highlighted the importance of data and how it makes a big impact when exploited. It also reinforced the importance of my role within the organization – to unleash the untapped potential of data analytics.
What do you think we should be doing more of to encourage more girls to consider a career in tech?
This is an issue across STEM (Science, Tech, Engineering, Math) – to encourage more girls to consider a career in STEM, firstly employers need to hire more women at senior roles and provide them a seat at the table. In particular, at the executive table. By giving them a seat at the executive table, more women within organizations can be mentors to fellow female colleagues and thus aid in the development, professionally and personally, of women in their organizations. This will help to break the vicious cycle of women not getting into more senior / leadership roles.
Can you tell us more about your involvement in 500 Women Scientists and starting the first pod in Dubai?
500 Women Scientists was started in Colorado by PHD students who noticed there was less funding for research led by women. This initiative grew much more than anticipated: more than 20,000 women of STEM and supporters from more than 100 countries have signed in support of 500 Women Scientists, pledging to build an inclusive scientific community dedicated to training a more diverse group of future leaders in science.
On their website I noticed that there was no presence in the UAE. As I spent more time working, I realized that I wanted to be part of the solution and so I went ahead and started a pod here in Dubai. The goal is to provide a space for conversations on inclusion and diversity.
All our events take place online so anyone can join. There were a couple of women from the across the Middle East and East Asia who I was able to onboard and get involved. They also helped start the 500 Women Scientists LinkedIn and Instagram pages.
Women can often shy away from talking about their successes and 500 Women Scientists gives them the platform to speak up and share them. Our goal is to empower women to go for leadership positions.
What advice would you give to people looking for their first job in Data?
Don't be afraid to say you don't know. Data is a big field and you're not expected to know everything. You are more trusted when you admit you don't know, and that you'll go figure it out and do some research.
Show your strengths, be aware of your knowledge gaps, and show you're willing to learn.
Can you tell us more about how you got into Data?
Luckily, in the summer of 2018, I did an internship at PepsiCo HQ in Dubai, it was really intriguing as it was for a project with the Talent Acquisition Analytics team. I got to work on the project from start to finish and researched which factors led to success in the hiring process, and how those factors played a role with our biases. This kickstarted my passion for data.
What types of challenges have you faced in your career?
In the early stage of my career, I would say imposter syndrome. I wouldn't attribute my successes to my own hard work, and my mentor really pushed me through that self-doubt.
Research shows that in order to apply for a job women feel they need to meet 100% of the criteria while men usually apply after meeting about 60%. I thought, "how can I do this role when I don't have all the skills?"– but if you have 60% of the skills, you can learn the other 40%.
Tech industries, and in particular Data, can be male dominated, what is your experience of this?
I am very familiar with being the only female in the meeting room but that's not to say I'm uncomfortable with that. I only really realize it when mentioned, so I am thankful for supportive environments.
This is not to say that we do have to make a presence – how we are treated is also somewhat attributed to how we portray ourselves.  How women act when they're the only woman in the room matters – engaging in the conversation is important and makes more of an impact than we know.
Its important women speak up and voice their opinions. From the work I do with 500 Scientists and other organisations, confidence is the biggest issue women face.
Within your team at KPMG there is an equal number of men and women and you were part of a bigger diversity drive at KPMG, can you tell us more about that?
We have a great ratio comparable to that of the industry. KPMG launched a task force to further improve their diversity efforts and part of this was a big employee survey that needed analyzing, which I was asked to do! From there onwards, I became part of the task force and aided in the formulation of initiatives to improve gender diversity across the firm.
What impact has Covid had on the data industry and your role?

We obviously had to switch to remote working and work-life balance is a little off compared to pre-Covid. However, there is also more productivity.

Remote working has made it more difficult than it would be pre-Covid to build relationships with clients, as to forge long term relationships you do need those face to face interactions. We are learning and evolving!
Who has been your biggest advocate/mentor in the workplace and why?
I'm very lucky to have had more than one mentor in my career, and actually they've all been men. In my previous job, my director pushed me beyond my limits and provided me responsibilities I didn't think I could handle – he was the person who believed in me more than I did myself and that turned out really well.
In my current role at KPMG, I have a director and partner that act as my mentors, they understand my limits but also push me to achieve greater goals. It's important that you have these relationships because they help you grow professionally.
Any reading/websites you would recommend to stay updated?
My favourite way to consume content lately has been podcasts: For Your Innovation (FYI) and Data Conversations Over Coffee are two of my favourites.
What is your biggest stress reliever?
Definitely being active. It's part of my everyday routine and I can't function without it. In the morning, I ignore my cell phone for an hour or so and take that time to be active, whether that's a gym session, yoga, or a run outside, and use this as an outlet.
Is there one piece of advice you wish somebody gave you at the beginning of your career?
Be relentless when it comes to achieving your goals and be clear about what YOU want. Don't be afraid to make mistakes or say you don't know – this will only push you further.
Fun fact about you?
I like to challenge myself and see what I am capable of, I do things like 12-hour mountain hikes just to test my limits.
You can hear more from Leen in this video where she talks about getting into Data Analytics and how data can help shape our daily lives and choices.
---
Want to read more of our Women in Tech interviews? Click here.