Happy Chinese New Year from Salt, a global, award-winning digital recruitment agency! This year, it is the year of the dog.
If this is your Chinese zodiac animal, your recognised traits consist of; sincerity, loyalty, independence, decisiveness, and you face difficulties in life head on – based on these characteristics, you consequently enjoy peaceful relationships with those close to you. These Chinese zodiac traits should not only be applied to those born in a certain year, they should act as guiding principles for all; especially in the workplace.
When you think of a pet dog, loyalty and companionship come to mind as their primary characteristics. They are known as a "man's best friend" and are often considered great listeners (in the sense that you feel connected to them even though they are unable to reply). Inspired by Chinese New Year, we have decided to explore the benefits of a dog's presence in the workplace.
For most people, just seeing a dog is enough to put a smile on your face; their energy and playfulness is infectious. Science has in fact proven that the company of a pooch relieves stress and even reduces cholesterol…so why wouldn't you want a friendly pup to keep you company in the office?
More and more companies are allowing employees to bring their dogs to work; Amazon, Google, and Etsy are a just a few of the well-established businesses that will welcome you with "open paws." So, for all those millennials out there who are desperately trying to persuade the "big dogs" (if you pardon the pun) to get a canine companion for the office, here are 4 primary benefits for the entire company:
Boosts morale
The presence of a pet in the office tends to increase positivity, which in turn increases productivity. Boosting morale brings teams closer together which leads to more communication and engagement, and higher retention.
Increases performance
Experts say that employees of businesses that are pet-friendly "tend to work longer hours and have fewer absences" as they do not have to worry about rushing home to let their dog out.
Improves company identity
It has been suggested that allowing pets in the office can enhance a customer's perception of your business. When customers visit your office, the presence of a dog often helps people relax and enjoy their visit. An office pet also portrays a "family" image for companies, which is comforting and inviting.
Prompts potential business opportunities…
Believe it or not, an office dog can open more opportunities for partnerships. The presence of a dog can get the ball rolling as a conversation starter, which can potentially progress into a more business-orientated discussion that may not have taken place otherwise.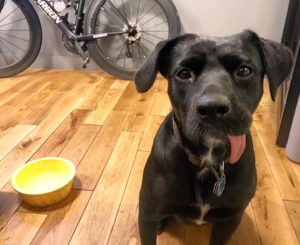 (Meet Mildred, Salt New York's Chief People Officer)
New Year…New Opportunities…Visit our website if you are looking for a new adventure in preparation for the year of the dog.