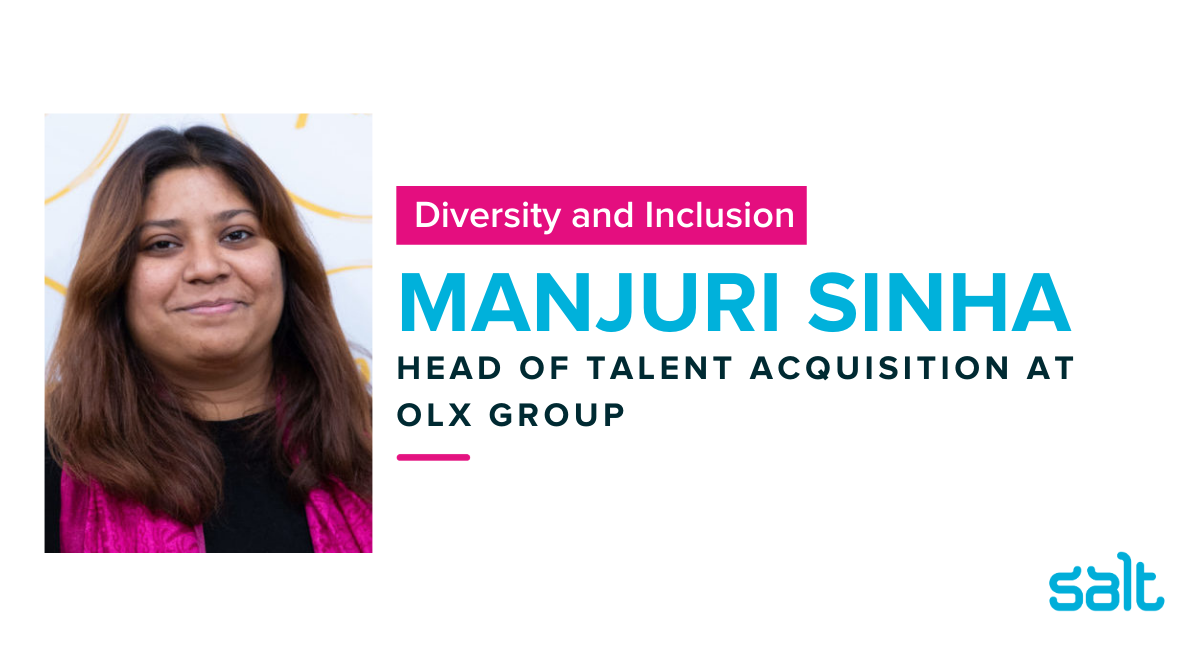 We recently spoke to Manjuri Sinha about building diverse teams for our new diversity and inclusion interview series. This interview is packed with tips and prompts to help you look internally at your diversity and inclusion and improve or implement processes.
This is a two-part series; the first part covers finding talent and hiring diverse teams, and the second part looks into what you can do to be a genuinely inclusive company.
Manjuri Sinha is Head of Talent Acquisition at Olx Group and has worked around the world, including Sweden and Czech Republic at technology companies such as Accenture and Zalando, where she was heading Tech Talent Acquisition.
She currently lives in Berlin with her husband where she has been based for 6 years. Manjuri loves to travel and her role with Olx allows plenty of opportunity to travel every month (pre-COVID).
Challenges to hiring
Whether you're a Hiring Manager or work in Talent Acquisition or recruitment there are many challenges you will face when hiring, especially when it comes to diversity. It is important to be aware of these challenges and the impact that they could have.
If you work with teams in different countries, you must understand their cultures and law. In certain countries, for example, It would be difficult for an organisation to campaign for LGBTQ so this would be a constraining factor you have to adhere to. 
Another challenge is the maturity of the organisation – are you working with a start-up or a large technology company? The intent to hire diverse talent is there with all businesses, but the maturity of the processes, awareness and training, differs.
There could also be certain barriers within the talent pool you're sourcing from, whether that's location or the number of people with a certain skillset. Organisations want to hire more women in tech for their office in Europe, for example, but how many women are in that talent pool and how many of those women would be willing to move to another city?
To combat this, you have to make an effort to reach out to lots of different people and one way to do this is to ensure your job descriptions are neutral to therefore attract a wider audience.
Another challenge is unconscious bias. We all grow up with biases but it's important that you are aware and conscious of it to be able to remove it from the interviewing and decision process. This way all talent in the pipeline has a fair process.
Alongside this, common challenges those working in talent acquisition face is the time to hire and location specifics, which could affect hiring decisions.
Finding great talent
Manjuri wrote a whitepaper on the four stages of hiring; Enable, Attract, Hire and Retain.
Enablement is a stage which Manjuri says is often overlooked. By enabling different communities by providing support, connection and inspiration, you can get exciting talent into your company who have already engaged and know your company well. Enablement is important both externally and internally within your organisation.
Some simple ways you can enable communities outside of your organisation is by creating groups that people can join, no matter what company or career stage they're at to share knowledge, training and insights, such as marketing meetups or women in tech. This helps connect people in particular fields.
Some organisations also reach out to communities to work together, however, there is a cost. If this is not available, you can start one up yourself. Manjuri gave an example of two engineers in Berlin who started a mentoring club where anyone can sign up as a mentor, select certain topics to share advice on, and then mentees can reach out to you. Manjuri says that she learnt so much from her mentee and emphasises that it is in no way charity work as it's beneficial for both parties.
Another way of enabling talent is by reaching out to universities or graduate schools and starting the introduction to your company there. Make space for junior hires to come in and grow after their university course and give them that platform.
It is important to note that as well as finding great external talent, your organisation will also have a plethora of talent which can be enabled. There are high numbers of employees in organisations who are stagnant in their roles, especially within ethnic minority groups, and they are not given chances to move into leadership positions across a variety of functions. Manjuri explains that there is a definite gap in numbers that go from individual contributor to leadership positions. 
Some themes around enablement that organisations can explore include:
Do you have programs that help employees develop? 
Instead of giving speaker slots to the same people, can you train other people in your company to give them that opportunity? 
Are there equal opportunities for everyone in the company?
Are you enabling your employees to progress within your organisation?
How can I be more diverse in my hiring?
Manjuri recommends a systematic approach. "You have to look at different points of the pipeline."
The attraction phase
There are lots of free tools available on the market that can run through your job ads and highlight masculine words. They can also include suggestions to make the description more neutral and therefore does not exclude anybody from applying.
If these tools are not available, you can use your team as a sounding board to go through your job description instead
The career pages on your website tells a story. The audience that you cater to and hire from should be represented on there
How inclusive are your pictures on the website?
What kind of representation are you communicating to your communities?
Sourcing phase
When you reach out to a talent pool it's important to make an effort to reach out to different groups, so you can give people that chance.
If you have employer referrals, make sure it's clear on who you want to join the team. Make sure those trigger questions are super inclusive. Don't think of a man or a woman but think of a trait you want them to have, again making sure the wording is neutral.
Analysing the funnel
Look at your data, especially if you have the luxury of an applicant tracking system.  
Where are the drop points in your funnel?
After the interview, how many diverse people are moving across?
How many people with disabilities are in the pipeline?
If you come across a problem, take the time to solve it to ensure more people can get into and move through the pipeline
Interview stage
Look at involving people from different sectors of your company (i.e. someone from your tech team and your office manager), different nationalities and cultures, and different levels of seniority when interviewing so your candidates meet with a diverse panel. This can help reduce unconscious bias in interviewing.
Decision making
Ensure the hiring decision is not with just one person and instead make it a group decision. This way you have a chance to call out any biases within the group, and it also helps you avoid hiring someone exactly like yourself.
Onboarding
Once the decision is made, and that person starts at your company it's all about inclusion. Everyone should work in an inclusive way.
For example, if you've hired a transgender person have you communicated their pronouns/preferred names and is this reflected on all documentation?
If you've hired a person with a physical disability, is your workplace accessible? Are there particular tools you need to invest in?
How inclusive is your onboarding process as a whole?
If you would like to talk to Salt about hiring diverse talent, arrange a call here.
Looking for a job? Click here.