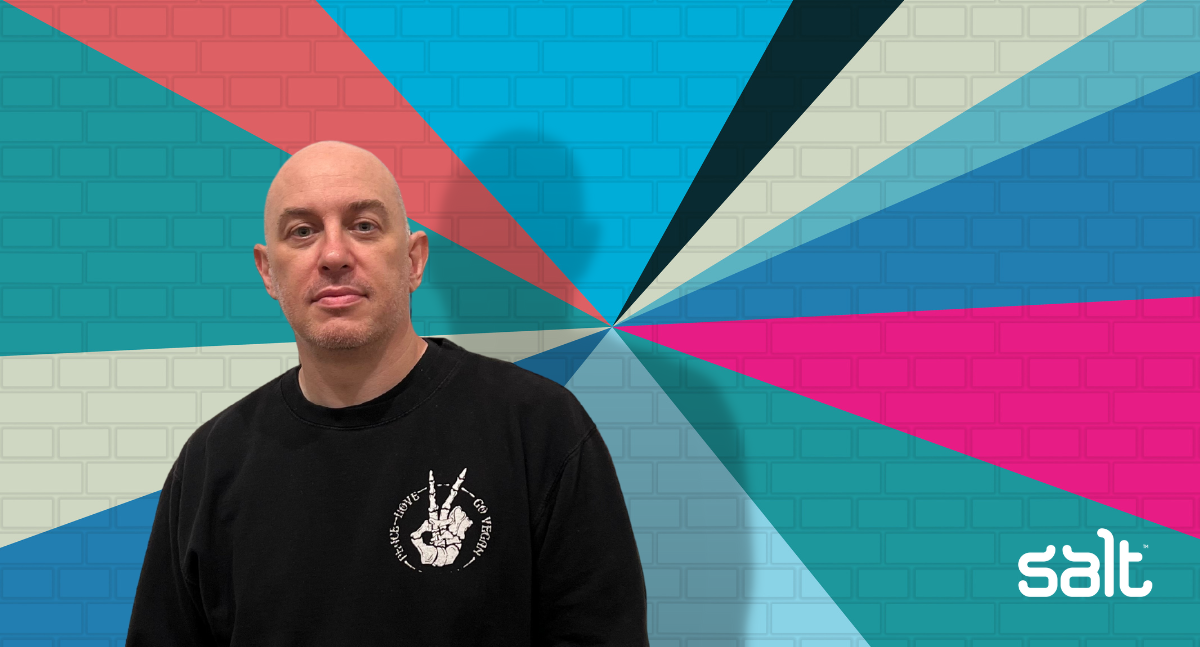 Accessibility and inclusive design impacts everyone. Jonathan Kokké, UX Design Manager at RS Group shares his experience and strategies to meet users' differing needs.
In this interview series Associate Director Consultant for Creative with Salt, Holley Potts, speaks to customers from all different sectors within the world of digital to explore what they value and where their focus is.
Follow Jonathan and the RS group on LinkedIn for more information and insights.
Looking for a role in UX or UI? View our open roles!
A word from Holley Potts
I started this interview series to give you a snapshot into creative career journeys and make expert insights accessible to all: from what employers are hiring for and how candidates can break into these exciting roles, to what the future holds for the Product Design industry.
I have loved speaking to my delightful guest, Jonathan Kokké, UX Design Manager at RS Group, and can't wait to hear about the strategies he has implemented to ensure accessibility and inclusive design in his work for RS Group plc, a global multi-channel distributor of industrial and electronic products. Based in London, the organization is global with over one million customers in more than 80 countries and d is a constituent of the FTSE 100 Index.
How do you think the current economic market is impacting the adoption and implementation of accessibility and inclusive design practices?
The biggest challenge with accessibility is it can't be tacked on at the end. It needs to be thought about upfront and throughout the process.
Setting those standards upfront is so important. I think it needs to become something more of a mindset.
We must make sure we don't exclude people through either cognitive, sensory, or physical requirements. Also considering language preferences, cultural backgrounds, age, and any other human needs.
We want to be making sure that we make sure everybody feels welcome. I think it is the age-old problem of not everybody seeing it, or they are just trying to meet basic legislation, and basic requirements. And that can be quite hard for the digital space.
It's quite easy to say we have a ramp, so, therefore, our building is accessible. But the reality is, that's accessible for wheelchair users, but not necessarily for people with crutches, as it can be a much longer walk for them.
Accessibility is not one size fits all, so you must use common sense.
Then try to bake that in as an approach. In the same way, we want to bake things like the human-centered design approach. We want to bake in user testing and usability tests into our process. We want KPIs, we want metrics that we can balance and that we can measure success against. Accessibility is one of those things that we need to have as not just a goal or requirement, but we need to build that into our design process, and our thought process. We need to ask the question of what the potential is here.
How does this accessible mindset merge with Design Systems?
So, with the work we are doing with the Design System, we are using the POUR framework.
Is it perceivable?
Is it operable?
Is it understandable?
Is it robust?
We must ask: "What is the expectation and what is the desired result?"
For example, understanding typography and how people read is the first step, then balancing that with things like the typographic measure to make sure that we are not having long line lengths which are difficult to read.
We have done a lot of work with colour ramps: taking the colours from the new brand guidelines and expanding those out into ramps that we can create contrast pairs.
We have what we call a mono ramp, which is 50, then 100 to 900. If you are using a background of white which is outside that ramp, you can use 600 or 700 as your text. If you are using a dark background colour, we want to be using say 50 or 100 for the text so that there's the right level of contrast.
How does this differ for people with either permanent or temporary accessibility requirements?
Indeed, how can we serve most people most of what they need as much as possible when you have people who have either permanent or temporary or situational accessibility requirements?
Quite often they are going to find a solution outside that will help.
This is not to diminish our responsibility but changes it: we need to make way for things like screen-readers, voiceover, or any other enabling software and hardware.
The other thing is to test as much as possible.
We are in the process of looking at our Research panel of customers and building a group from that research panel of customers with accessibility needs. We want to get real people with real needs into our testing. That is the truest way we can improve.
Looking for a role in UX or UI? View our open roles!
Check out more inspiring interviews from Salt here.
Hiring? Salt connects you to outstanding top talent worldwide
If you're interested in hearing about how Salt's top talent recruitment experts around the world can help with your hiring right now, get in touch. Click below to contact the closest Salt team to you!
Keep up with Salt's top talent job market insights and hiring advice! You can keep in the loop by following us on. LinkedIn, YouTube, Facebook, Instagram, Twitter and Spotify.