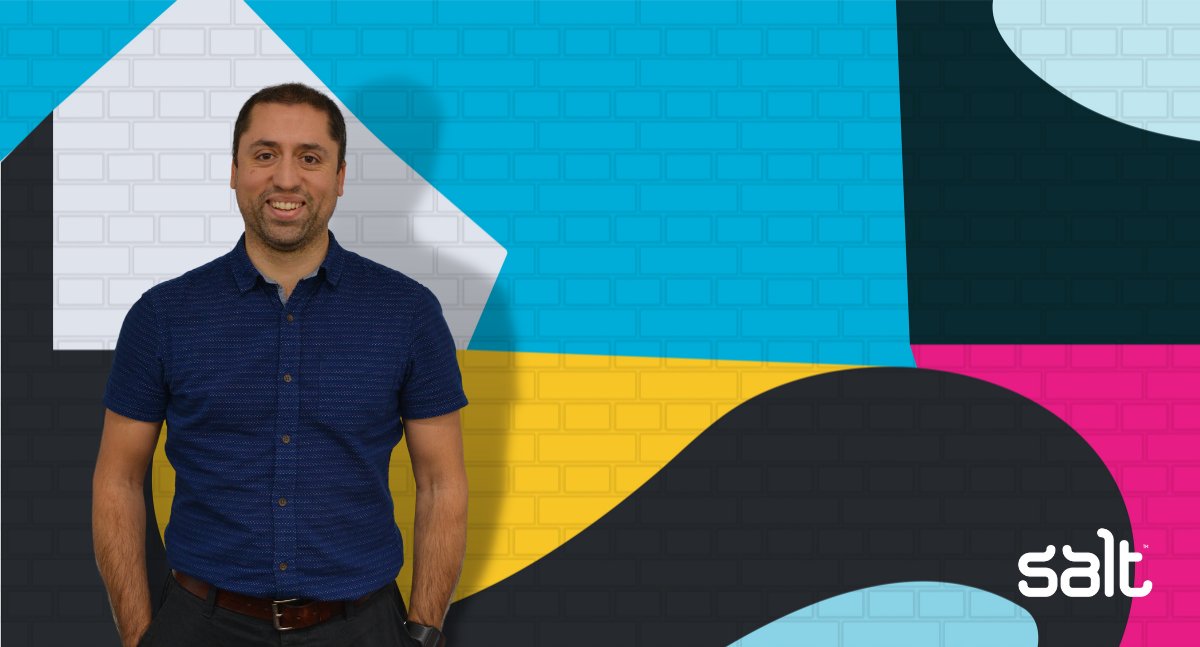 With ChatGPT, coding is easier than ever before. So, how do you stand out in a crowded Tech marketplace? Coding since the age of 7 and now sitting on the executive board of the MACH alliance, Dom Selvon, CTO of Apply Digital, has wisdom and expert insights into how to stand out in today's crowded Tech marketplace for all the right reasons!
Introducing Dom Selvon
I'm Chief Technical Officer of Apply Digital, and I've been working with Tech since the age of 7. I specialise in commerce – and over my career I've worked with a variety of the world's greatest brands creating rich experiences for buying things online. I've also worked in consulting for Accenture, before moving to my first C-level role with E2X, which was acquired by Apply Digital in October 2022 where I transitioned into the role of global Chief Technology Officer.
Apply Digital is a technology consultancy based out in Canada, and we've expanded into the US, Latin America and Europe over the past few years.
What I do now with Apply Digital goes beyond commerce – with a focus on the entire online experience from strategy, experience, design, and data intelligence. It's about learning how to take the interactions that the customers are having with the brands that we work with and using that learning to grow the relationship with the customer and the efficiency of the brand.
On how to get started with a career in Tech
Technology nowadays makes coding (controlling computers and whatnot) a lot easier than it ever used to be.
When you can use your voice to tell a computer to do what you want it to do and get it to build software, and with the advent of the coding capabilities like ChatGPT and generative algorithms, the capability of the human mind to code is kind of disappearing somewhat. It's pretty sad in my opinion.
If you are somebody who wants to get a job, the way to differentiate yourself will be to understand the fundamentals of computers, to understand the nuts and bolts of how computers work. That will give you a step above anybody else.
When it comes to hiring, what I'm looking for is someone with enthusiasm. I'm looking for someone with attention to detail and need to learn. Skills are things you can learn. Enthusiasm and an actual enjoyment you can't learn!
At Apply Digital we live by a SHAPE philosophy, one that embraces Smartness, Humility, Activeness, Positivity and Excellence. Harnessing the full potential of yourself whilst respecting the wisdom of others. Seizing the promise of every day and remaining positive at all times. Relentlessly pursuing the best you can be and do. Read more about the culture and values at Apply Digital,
I'm also really looking for people that will fit into the team well, because the best software teams are those that are highly motivated, highly collaborative and enthusiastic.
I'd rather have highly motivated than highly skilled recruits. Skills are something you can learn.
And if you are in any way interested in technology, skills are something that you will constantly be picking up. They're the people I'll pick up every single day.
On the evolution of AI, ChatGPT and what that means for new Tech talent
This advent of AI is going faster than even the internet. I don't know where to start to look at it from a legislative perspective. It's like trying to reign it in when the horse has already bolted.
This is a seminal moment in human history. I think if we do it the right way then I think it's going to be a net benefit for businesses but also for humankind.
But one of the things I do say about AI and the potential of artificial intelligence is that for every capability advancement we make, we have to do two safety enhancement advancements. And what I mean by that is we need to be able to marshal this, to be able to understand these AIs and how they work.
Without being able to do that then those AIs will just go off and do what they want, and we'll have no control over them.
In terms of the workforce and for the new generation of talent coming in – I don't know what their jobs will be. I don't think my daughters' jobs exist at the moment. The near future is happening very, very quickly. You know, a coder I think will be very different now than it is in 10 years' time.
If we don't embrace it, we don't use and make most of the tools that are available to us, then we will be at a disadvantage.
I do liken ChatGPT and the generative transformers for coding to an integrated development environment. When I first started coding, I was coding in Notepad and using very, very simple tools, having to run it with a compiler, to do syntax checks and so on and so forth. I think it made me a better programmer, but it was also slow. Now with the language helpers and things that you get with tools like IntelliJ, Visual Studio and so forth, it makes coding a lot easier and a lot less error prone.
But it is a tool just like ChatGPT is a tool and using it the right way can enhance your day-to-day job. I use ChatGPT daily to enhance and augment what I do.
It doesn't replace imagination. It doesn't replace the problem solving and long-term memory ability of a human brain.
Yet, if you are new on the block, you absolutely have to embrace it. You have to make as much use of it as you possibly can because it's out there, and it's a good tool.
On the MACH alliance
MACH stands for microservices, API-First, cloud-native SaaS and headless.
It's a philosophy for building internet scale software. Software that's pluggable and that's composable, that gives you the ability to rip apart and put back together, however your imagination sees fit.
The beauty behind that is that the business offering, the capability behind the scenes, can be relatively generic or canonical, but the experience that's put on top of it, the way you pick and choose which bits of functionality that you want from your microservices and API, the way your experience surfaces to the outside world, has no limits (except for your imagination and your brand guidelines). That's really why this philosophy is getting so much traction.
The MACH movement is growing, our alliance has over 85 members already including Google and Amazon despite being formed just 3 years ago in 2020, but it also has quite a bit of controversy. There's a lot of people who are dogmatic about the approach – the reality of the situation is make sure you use the right tool for the right job.
You need to make sure that the architecture maps to and supports your business rather than the other way around. If you try to bend and break your business just to go on the MACH journey, you'll probably fail.
There are different levels of MACH as well. The concept of composability and composable architecture is one that is also widespread, and what it means is that a business offering can be broken apart and put back together again relatively simply… The MACH way is kind of a purist approach, and it's not the right thing for everyone.
If I was building a product today, I'd probably use the MACH approach. However, if that was for a product building an architecture for a brand or for a customer who has a legacy and who has software already in place (and so on and so forth), I certainly wouldn't go pure MACH. A composable business would be my goal.
MACH is ultimately a way of delivering and building enterprise and internet scale software in a flexible, agile, and data driven way. That's really what we see.
The idea is that we really don't want to have a MACH Alliance that's going to be here in 20 years' time. If we do, we would've failed. We want a MACH Alliance that's so integral to the way software is built that you wouldn't have an Alliance because it's just how we do software. It would kind of be a tautology. So, making ourselves obsolete could almost be a target.
On career advice and how to speak to crowds
The first bit of advice I got came from my dad just before I got my first job, which was after university. He said to me, when you go in, figure out who the most influential person is in the room.
It might not be the boss and it might not be the people speaking most, but figure out who it is and go and make friends with them. Go and see how they work, what they do, how they operate within the dynamic of the office that you're going into. Go and learn from them.
It might be that person sort of sitting in the background, calm and collected, pipes up with a couple of words, usually the person that speaks softly, but the room silences when they speak. Those are the people that you can learn the most from.
The second piece of advice that I was given that's really helped me in the latter part of my career was about how to speak to large crowds of people, making sure that they listen and trust what you've got to say.
An old boss of mine told me: "If you're nervous or if you run over your words or lose your trail of thought, the two words you need to think of are time and space."
Take your time and give yourself space. Walk around, lean back, drink some water – just take yourself out and calm yourself down, and that allows you to just gather your thoughts and get a bit more comfortable in your own space.
If you are nervous, everyone around you will be nervous for you. Nobody wants to see you fail. In any sort of context like this, they just want you to succeed. The natural human instinct is to want people to be calm and comfortable and happy.
Keeping up with Dom Selvon
Follow Dom Selvon on LinkedIn to keep up with his latest posts and projects. You can also follow Apply Digital and the MACH alliance on LinkedIn to stay in the loop with the latest developments.
Learn more about Apply Digital on their website.
Learn more about the MACH alliance on their website.
Hiring? Salt connects you to outstanding top talent worldwide
If you're interested in hearing about how Salt's top talent recruitment experts around the world can help with your hiring right now, get in touch. Click below to contact the closest Salt team to you!
Keep up with Salt's top talent job market insights and hiring advice! You can keep in the loop by following us on. LinkedIn, YouTube, Facebook, Instagram, Twitter and Spotify.