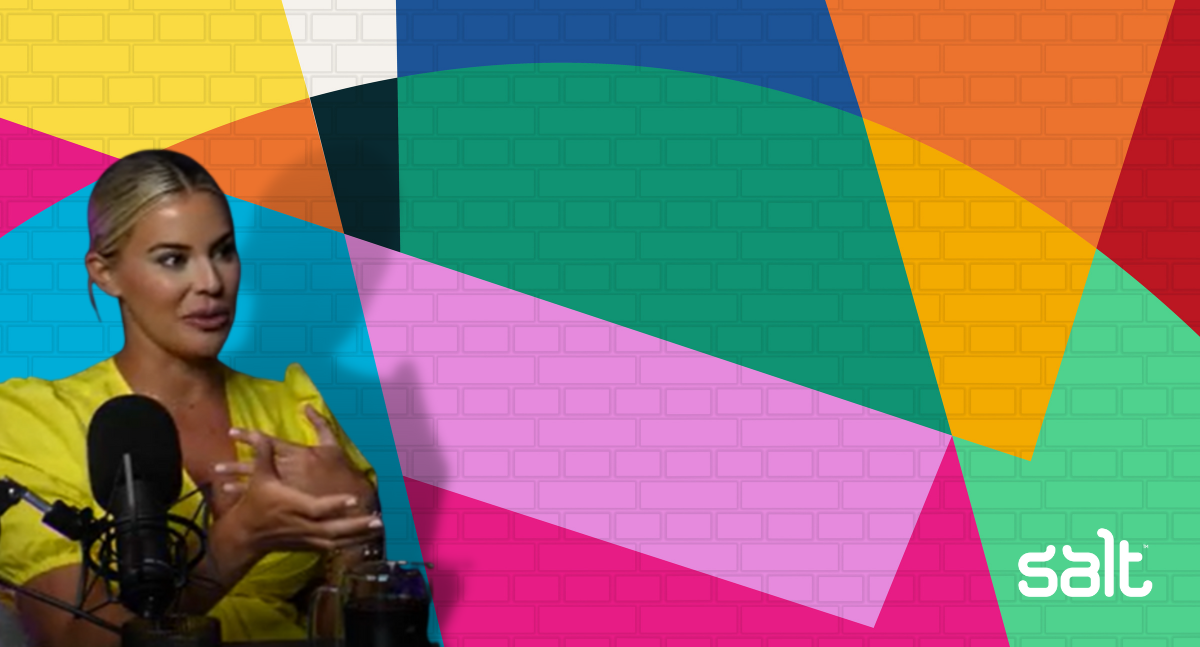 A personal brand is your reputation at scale. It's key to achieving your business goals and shaping the legacy you have online to rely on. Amelia Sordell, CEO and Founder of Klowt, a personal branding agency, shares her own story, practical advice, and learnings as a business leader, across all things personal branding. This interview is the push you need to bravely take the first steps to building your brand online!
Watch or listen to this interview!
Or you can read our highlights from this inspiring interview below.
Introducing Amelia
I'm a founder of a personal branding agency, Klowt. I am a single mum of two. I started my business in the pandemic, three years later I'm sitting in New Bond Street.
I have always been a cookie cutter entrepreneur. I have always had a side hustle or some little scheme going on from when I was even really young. Unsurprisingly, my first job was in sales and I did very well in sales. At 21, I started a women's wear business which initially did very well but failed in year 2. I had to move out, sell my car, move back in with my parents. I then went into recruitment, going from a Talent Advisor to a Team Leader in just 12 months, before managing marketing for recruitment consultants and agencies. It's then I learnt that it's human-centred marketing that delivers real results.
On personal branding
Klowt do personal branding as an agency. That's my bread and butter: doing personal branding.
I think with what people need to understand at personal branding is you need to be this amplified, slightly more energetic, objectified version of yourself to achieve the results that you want to achieve.
Personal brand is just a fancy marketing word for reputation, right? But the process of building a personal brand or personal branding is creating a strategy around that reputation to build something that you want to be known for.
I want to be known as someone who builds businesses and who is good at sales and who is an expert in personal branding, that's what I want to be known for. My strategy to achieve that reputation is to post content around those topics, is to talk about my business, is to talk about sales, is to talk about personal branding, because that is the reputation, I want to shape for myself. That's what's going to get me closer to my goals.
Personal branding is basically your reputation at scale. It's you shaping what you want people to think about you when you're not in the room.
I don't care. I really don't care. That I have a million likes on, on TikTok or that I have a hundred, that, that to me is not the goal of what I'm doing. I want to be famous to the people that I need to be famous to achieve my goal.
On growing up and growing confidence
When I was a kid, I had a lot of anxiety about speaking to strangers. I wouldn't pick up my house phone when I was a kid because I was terrified to speak to people that I didn't know.
With my family, I felt a certain level of comfort and I was the silly, stupid version of myself that I am now, but I had a lack of confidence or a lack of self-esteem within anyone that was outside my circle, and that continued until I was about 30 in, and it manifests itself in different ways.
I'm confident at work. I know I'm good at my job. I'm confident in being a mom. I know I'm good at being a mom. But when you took me out to outside of those two identities, I didn't really know who I was.
It wasn't until the pandemic happened that I was forced to sit in my house in four walls with my kids and in an unhappy marriage and think: is this the life that I want? Is this the person right now that I want to be?
I think people romanticize like they had like a light bulb moment. And for most people, I don't think that's the truth. I think it's a buildup over time. And for me it was a buildup over time, but there was an actual moment a day that I was like, I'm done. I must do something about this.
I had 1400 pounds on my bank account. I was the only breadwinner in my family. I had two children that I had to put food on the table for, a mortgage payment due and childcare fee. If it didn't work, I was f**ked. But what was the alternative? F**k my life?
On bravery as a motivation
I want to bring a little bit of that bravery I felt starting Klowt to at least one or two people a day. That's what's going to continue to drive my passion.
We've got a massive neon sign on the wall that says just fucking post it. That is my mantra.
But that's easy for me to say because I've gone through that trench. When we talk about bravery, I've already made the brave decision. I already jumped off the cliff and worked out how to build a parachute, and now I'm at the bottom going "Come on guys, it's fine!"
It's scary. You absolutely must be a coach. You absolutely must hold people's hand, but at the same time, you also need to shove them off the cliff, because most people won't take the risks that they're capable of overcoming.
On business lessons
Everything is figureoutable.
There is very little you can do that's going to end your business. There is nothing that you can't come back from other than maybe like murdering someone.
You can come back from a bankruptcy, you can come back from a bad credit score, you can come back from failing and bankrupting a business like I did and having to go back into the workforce, from being a divorcee at 30 with two babies and having to be the only breadwinner.
You can come back from anything, but you just have to be willing to put yourself out there in order to come back from it. Because if you sit in a corner and cry about it, of course you're not going to be able to make it out. You have got to learn how to swim.
On career advice
It's just not that deep.
Most things don't matter. If you get bad feedback, fine. Action it. If you get fired, no worries. Most of us have been at some point. You still have the rest of your life to live.

Ask for stuff.
Particularly if you're a woman. Just ask for stuff because the worst that's going to happen is that someone's going to say no. Okay, move on. You were in no worse of a position than you were before.

Don't be afraid of working in sh*t jobs and for sh*t employers.
Most jobs aren't good, and that's not because the people running those business are inherently bad. It's that they just don't know what the f**k they're doing and they don't necessarily even have the time to know what the f**k they're doing because there's 15,000 people in that business and there's a board who sit in a high-rise in New York making decisions about stuff that impacts people who are based in London who are on 25 grand a year. That's not a toxic employer. You're just working for a large business.
Work isn't always going be fun, and if you enjoy more than 50% of what you're doing, then f**k me, you've landed the dream job!
Keeping up with Amelia and Klowt
Follow Amelia on LinkedIn to learn more about personal branding and join my network.
Find out more about Klowt and to work with them.
To get to know Amelia on a more personal level, follow her on YouTube, TikTok, Instagram and Twitter @ameliasordell.
For all speaking, podcast or media enquiries email amy@ameliasordell.com
Hiring? Salt connects you to outstanding top talent worldwide
If you're interested in hearing about how Salt's top talent recruitment experts around the world can help with your hiring right now, get in touch. Click below to contact the closest Salt team to you!
Keep up with Salt's top talent job market insights and hiring advice! You can keep in the loop by following us on. LinkedIn, YouTube, Facebook, Instagram, Twitter and Spotify.