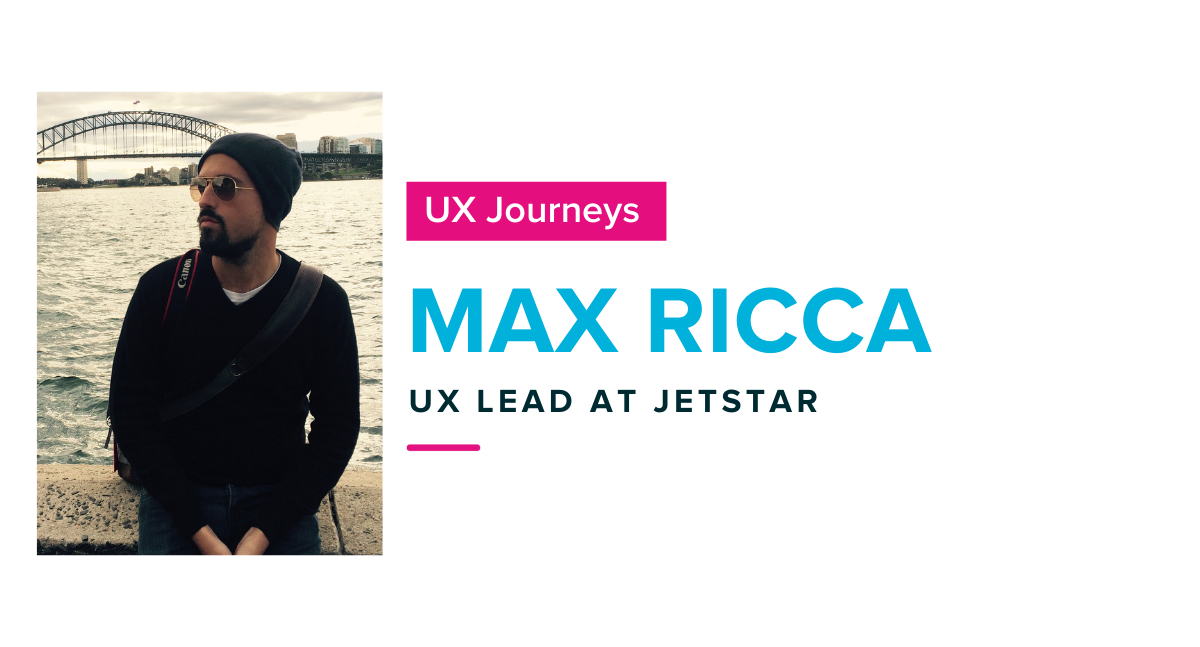 Over the coming months, we'll be catching up with some of Melbourne's UX Leaders about how they got into the industry, and what tips they have for people looking to get into UX or progress their careers in this 'UX Journeys' interview series.
First up, Salt's Principal Consultant Jo Corner from our Melbourne office caught up with Max Ricca, UX Lead at Jetstar.

Jo: Hi Max, thanks for taking some time out to chat with us!
Firstly, I'm curious to know how you got into UX in the first place?

Max: When I was at university, there was no such thing as 'UX'. I was studying as a Graphic Designer and Art Director in Europe, there were social media campaigns, and we were working on website architecture and e-commerce, we knew we had to have the right user journey, but UX wasn't formulated like it is today, and no one was doing user testing. But the more I worked, the more that became the future.
I remember when my boss came back from New York and was like, "Guys look at this, it's called an iPad" — it wasn't even on the market in Europe yet. It was the time of the big financial crisis, TV ads and campaigns were dying, agencies were falling down as they didn't have clients to work on, and suddenly those small agencies that did websites started to flourish as they were selling a new thing.
I was lucky that I made my move early, as soon as there was a change into digital, I was like, "Let's play with these new devices — what is the user journey?" We started user testing very early on, it wasn't groundbreaking, but it was something new, and I was like, "I'm interested in this stuff!"
How have you seen the industry change since then?
There was a focus on finding generalists who could do everything all at once, rather than specialists which you see more and more these days. Also agile, that's been the big shift. I still look for someone who is an all-rounder for my team, as it is more suited to the agile ways of working.
Having someone that can get involved at any part of the process is a big plus for me.
The market trend now seems to be people focusing on one side rather than the other, I feel like there are a lot of people who don't want to move out of their comfort zone, for instance, someone says, "I'm a UXer, I'm not touching the UI" which makes me sad because when we talk about designing an experience or designing a digital product, you can't really separate UX from UI, so saying I'm not touching any UI means I don't want to be part of the rest of the process. It's an entire journey, we should look at the journey holistically.
This is from my personal experience as I have always been focused on learning as much as I could. If I was paired with an iOS Developer, I was trying to read what they were writing in code just to understand, just to be curious, so it's hard for me to justify hiring someone who only specialises in one bit or the other. There will always be someone who is stronger at one end or the other, and that is where we strike a balance between having a specialist or having someone strong in UX or UI, but happy to do everything.
Why do you think there is a push towards specialists?
It's good if you can allow yourself to have multiple designers in one area, in pairs, that would be amazing but it's limiting if you have a small team. For instance, we have a small team, so we can't do that. In big companies where you have a lot of products, it could be a bit of a struggle to have two dedicated designers on each product.
How did you get to where you are now?
It's about building up experience, right? The big trend I've seen (and this is everywhere from when I was an Art Director in a small agency in Europe) is a lot of interns and people fresh out of university and just starting in UX, who are acting like they already know everything and aren't willing to learn. That's not a good approach in any kind of work, it's just that Designers may be more affected as we might treat what we do as our baby, like, "It's so precious to me, no one can touch it" rather than thinking, "How can I improve this?" My advice would be, "Never stop learning", I'm still learning new things all the time.
What tips do you have for candidates who are just starting out in their UX career?
Take as much as you can from each job, use the workplace as a learning ground.
Find a good place to work and don't worry about salary, a lot of people think, "I'm a UX Designer, I need to earn X amount" but my advice is to find a product you like, it's the experience you can take out of that job that will make you grow career-wise. And then the money will take care of itself.
I'd also say sticking in one company for a bit is good but don't be afraid to change, you won't be exposed to as many ways of working if you stay in one company for years and years.
Participate in any contest you can. Anything that gives you something you can show as part of your CV or folio.
Finally, and most important is the portfolio. Once you have the tools, build up a portfolio. You don't need to have a job to do this. If you're just starting out and you don't yet have a folio, I'd suggest you identify any product in the digital world or any website, and start analysing and reshaping it, revision a new journey for that website or service, and put that in your folio. That shows willingness, it says to me — I really want to do this and that's why I'm investing my own time in this. Choose products you would like to work on, it also tells the people you're interviewing with what your passion is. That was the advice I was given 10 years ago and it's still relevant.
What do you think makes a good portfolio?
The portfolio needs to be online. I started with the books of A3 paper. But this is 2021, it needs to be digital, that's it. It also shows me you care to put effort; you really care about what you're doing, and you want to show it to people, and show it in the right way. A PDF is always A4, it's not the right way to show me. Anyone can build with the tools that are available online, you can build it in two hours — what takes the longest is preparing the assets. Online portfolios are more shareable, and they give you more visibility. I hate scrolling slide by slide on a PDF, it also tells me already that the best way you have to present something is a PDF.
In our team, we would never present on PDF. Everything is digital, we would use Miro board. If you use PDF, you're not showing that you're up-to-date with the tools.
What makes a candidate stand out in the interview process?
Apart from a good folio and the relevant skills for the role, culture fit is always the deciding factor. There are different cultures with different teams. For me, the passion needs to be there, I like strong-willed people who are still able to listen. You need to have the chance to shine of course, but you do need to be able to sell yourself.
Are there any future trends or tools on the horizon that people should look out for?
I'm bad with tools, we're still using Sketch! We're moving to Figma though. The thing is tools keep changing, and we have so many files and so many products that sometimes the migration effort just doesn't justify moving everything as maybe in six months the original tool will have the same feature. But with Figma, from a design system perspective is more powerful, we are making the jump now it's worth it.
As voice (Google Home, Siri, Alexa, etc.) gets bigger and more widely used, I think there will be more that we have to consider from a UX perspective, and it's going to be a different UX, it's going to be a serviced UX, it's a third dimension.
Also, there is going to be more virtual reality. Since COVID-19 took over, more and more is happening online. I have friends who have got into bike simulators and driving simulators, and they race against each other online, so what is going to be the next step? Who knows? But there will need to be more and more UX considerations needed as the technology advances.
Things must be super busy with you at Jetstar now everything is finally opening up! What can we expect in the coming months?
To fly more! With domestic and international borders set to open, our focus is on all those digital tools we need for us to be back in the air. We're trying to be one step ahead of the government. With Australia, Japan and Singapore phasing different approaches for different rules, it's a bit complicated. We need a platform where we can easily share COVID-19 tests, vaccine passports, etc., the focus needs to be on making it easier for people to fly again.
From the data, we know people can't wait to fly again. There's a lot of exciting plans in the roadmap for the next two years… watch this space!
What are the biggest challenges your team are facing?
Not being allowed to fly! We were a big team before and unfortunately, we had to scale back to be a small team with a focus on lean ways of working. We're working on a design system, to make it quicker and easier to implement changes across all platforms. There's also a big focus on accessibility, to make flying accessible for everyone.
Thanks Max! Flying again sounds heavenly.
If you're looking for your next role in UX or to grow your team, email Jo Corner at jcorner@welovesalt.com.
 
---
Are you an employer who needs some help with hiring digital talent? Visit our Employer page to submit a short brief and we'll be in touch shortly.
Looking for a new Creative job? Check out our current opportunities on our job page.