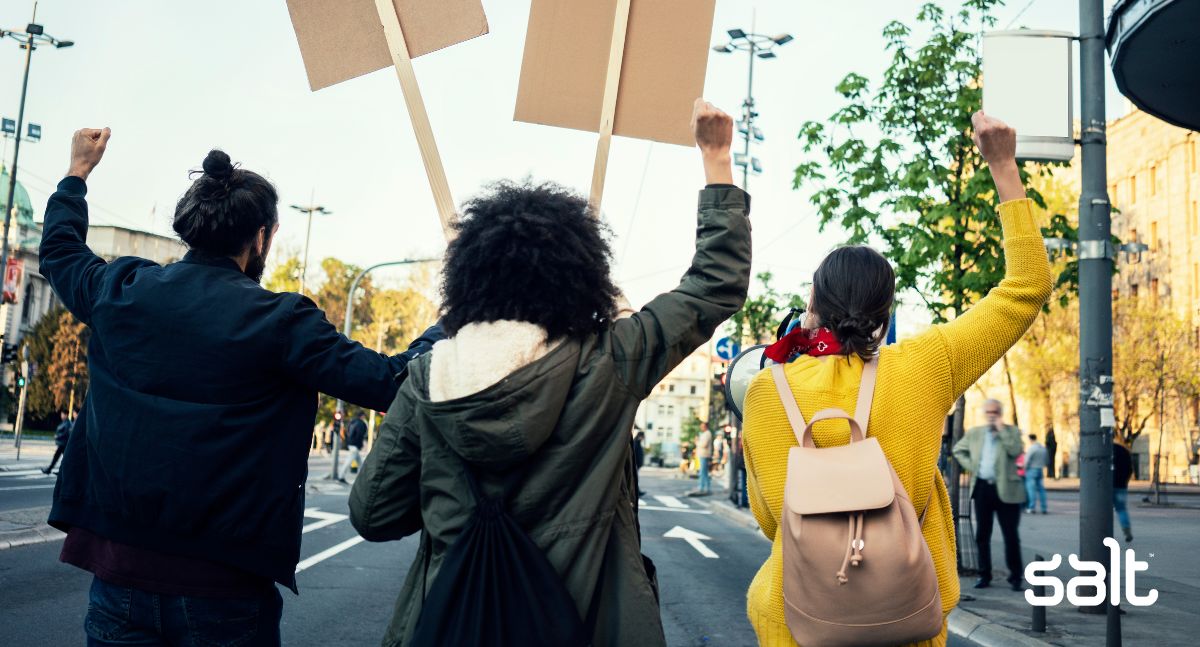 The world of work is evolving. And the future of work is being shaped by the new generation – Gen Z. This generation is the first to be born into a digital world. They bring unique skills and mindsets to the workplace. As the oldest members of Gen Z begin to enter the workforce, it's essential that employers and hiring teams understand their differences and create a workplace culture that unlocks their potential.
Some trends and differences are listed below, but it's important to note that these are general trends. Not every individual from each generation will fit the descriptions outlined here. Yet, understanding the differences between generations can help hiring managers create a more inclusive and diverse workplace that accommodates the needs and values of employees from all generations.
Wait, who is Gen Z?
Descriptions of each generation do vary but in summary:
Gen Z, also known as the iGeneration, is the generation born mid-90s, usually around 95 or 96 (the date does shift a few years depending on the source).
Gen Z is a diverse generation, with varied backgrounds, interests, and values. They're also the most educated generation in history, and have more access to information than any previous generation. Gen Z's are highly engaged with social and are generally more skeptical towards authority.
In comparison Gen X is defined as people born between the mid-60s and 1980s. Gen X is the first generation to be born with the widespread use of computers, but still remember the world without the internet. So while there are certain overlapping cultural influences across these generations, there are experiences and values that set them apart.
What cultural differences are there between Gen Z and Gen X that will affect the workforce?
Gen Z has grown up in a world that is drastically different from the one experienced by Gen X. Gen X grew up in an analog world, while Gen Z is the first true digital generation. Gen Z are more likely to use technology to communicate, for entertainment and for activism.
Gen X is more likely to focus on the traditional values of hard work and loyalty, while Gen Z is more likely to focus on values such as creativity, collaboration, and innovation.
Gen Z is also more likely to focus on a work-life balance, with flexible hours and remote working options, though across all age groups, in the wake of radical changes to working environments over the pandemic, this is something that an increasing number of workers of all ages value. Read more about hybrid work models here.
Empowering Gen Z in the workplace can have a positive impact on the organization as a whole
By creating a work culture that is open to new ideas, you allow Gen Z to use their skills. Receiving help from increased creativity, innovation, and productivity.
Technology:
Gen Z are digital natives. They're very comfortable with, and rely, on technology which depending on the role will change the way their work is done. There should be emphasis on collaboration tools and technology for communication to enable and empower their work flow.
Social Activism:
With more awareness and commitment to social justice and activism. Gen Z workers look at your company values, and are seeking a purpose driven work culture. Corporate social responsibility, diversity, equity, and inclusion and are all elements they'll consider in a prospective employer.
Attitudes to authority:
Gen Z's independent attitude may challenge traditional power structures in the workplace, and they thrive within a more decentralised structure and under flexible management style. These elements are also key components of an agile or composable work model, allowing for flexibility, innovation, and adaptability in uncertain economic times.
Work-life balance:
Gen Z value work life balance, and are part of the reason for the push for greater flexibility and remote work options.
Education and career paths:
Gen Z's focus on entrepreneurship leads to a stronger emphasis on continuous learning, as well as more diverse and unconventional career paths. They value opportunities to learn and develop, and will look to these as benefits provided by a prospective employer.
How to hire and create a culture for Gen Z
Businesses need to understand the values and motivations of Gen Z and create a hiring process that appeals to them. This includes creating job opportunities that are tailored to Gen Z's values and skills.
To create a culture that empowers Gen Z to reach their full potential it helps to build a supportive environment where they can take risks and experiment with new ideas. This ties in to decentralising your management style and allowing space for innovation, ownership and agile development.
Designing a workplace to include Gen Z also means creating a diverse and inclusive workplace where they'll feel safe and appreciated. Beyond their values, this generation is the most racially diverse in history and will want to work somewhere they feel able to voice their beliefs while also being treated fairly.
Think about how you will onboard and retain Gen Z employees. We have tips below but no hard and fast rules. Every workplace is different and functions in their own way. Collect honest feedback from those you interview and employ, and ask about their first experiences of the workplace if they've got past experience. This can help provide insight into your own practices and identify areas to develop.
Tips for onboarding and retaining your Gen Z workforce
By following these tips, your workforce will be on its way to being a more supportive and inclusive as every experience of a role starts with the onboarding experience. Here's how to make the Gen Z workforce feel welcomed and valued in their new workplace:
Introduce new staff to the organization's culture and values.
Include any options for flexible or remote work, and any other benefits that support a healthy work-life balance.
Supply clear guidance and positive impact.
A sense of purpose and values behind the work, helping to provide how the roles contributes to the bigger picture. This is all about positive impact.
Supply mentorship and guidance.
It's important to foster collaboration. Gen Z values teamwork and you should create opportunities to work and learn with a team from cross-functional projects to mentorship programs.
Access to the latest technology for effective communication.
Supply access to collaboration tools, resources and training that can help them Gen Z workers get stuck in and caught up immediately.
Provide opportunities for growth and development.
Make sure to offer opportunities for development in the workplace and support continuous learning. This includes training programs, workshops and attending conferences and events – but could also be providing staff with their own budget to spend on training of their choice. This could even help fill your skills gap before you identify it, and motivates workers with ownership of their own development and career plan.
The future of work is being shaped by Gen Z and it's important for employers, hiring managers and HR professionals to understand the differences between Gen Z and previous generations. By creating a workplace culture that empowers Gen Z's unique skills and values, organizations can unlock the potential of this next generation and benefit from their creativity, innovation, and digital skills.
Hiring? Salt can help!
Salt is committed to diversity and inclusion. Our expert consultants can help you build a team that delivers results now and in the future. We can help you find the right talent for your needs.
You can also keep in the loop by following us on LinkedIn, YouTube, Facebook, Instagram, Twitter and Spotify.