We are delighted to announce that Salt has been ranked number 16 by LinkedIn for the 2017 'Top 25 Most Socially Engaged Staffing Agency.' This ranking is a direct reflection of the passion Salt has for serving our community online; by fostering conversations, sharing industry news and connecting talent. Our team endeavours to continuously expand and serve the Salt network with quality content and conversation.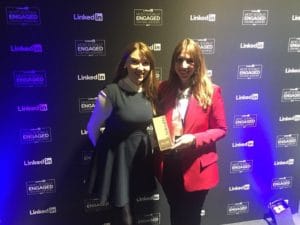 Over 60,000 companies were reviewed, so appearing in the Top 25 really is an outstanding achievement. The list is generated with LinkedIn data based on performance in Social Recruitment and Content Marketing to establish which organisations are "creating the best engagement opportunities and experiences for LinkedIn members."
Global Head of Marketing, Ann-Marie Oppenheimer, "We believe that our community-lead approach to our business is what earned us this acknowledgement and I am extremely proud of my team. Our consultants are true experts with actual experience in the roles they recruit for which helps us to stay on top of the conversation and engage with the market. Sharing our team's expertise has certainly contributed to this amazing recognition from LinkedIn."
This achievement symbolises the ongoing successes of Salt, and will further motivate us to continue our mission to provide quality engagement and thought leadership content to our audiences.
Salt
Salt is a global recruitment business with 180 staff across 8 locations: London, New York, Auckland, Sydney, Hong Kong, Singapore, Kuala Lumpur and Dubai.
We deliver outstanding candidates globally in the digital world across creative, marketing, sales and technology, whilst our services range from single hires to covering complete outsourcing solutions involving business change. In New Zealand, our market coverage extends to accounting & finance, business support & operations, and supply chain & logistics.
We have built our business upon 5 pillars: Vision, Values, Minimum Standards, KAM (Key account management) and DNA (training & development). Our pillars define the way we work across all of our offices and we are proud of our consistent yet agile methodologies.
As a collaborative recruitment organisation, we are tackling the challenges that globalisation presents and we have a blueprint for the best recruitment service in digital.
To shape your future with Salt, a leading digital recruitment agency, send your CV to enquiry@welovesalt.com or use our search to find jobs. You can also keep in the loop by following us on Facebook, Instagram and Twitter.