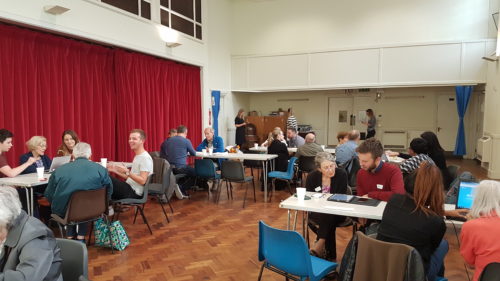 Last month, my wonderful colleague Lauren introduced Salt HQ to South London Cares through the enjoyable method of a Pub Quiz. Team names were strong, there was a tie break, lots of laughter and money being raised for what I have discovered to be a wonderful cause.
What is "South London Cares"? 
"South London Cares is a community network of young professionals and older neighbours hanging out and helping one another in our rapidly changing city."
Why?  
London is incredible, right? The city of opportunity where people come to carve their careers and make a life for themselves. A city of cultural and economic differences.  There are new skyscrapers, new houses (flats) being popped up at quite a fascinating pace and that's what makes it amazing.
"For our older neighbours, many of whom have spent a lifetime in their home neighbourhoods in Southwark and Lambeth, the rush and pace of the city can often now feel too much. Getting around can be frightening, and trends including globalisation, gentrification, migration, digitisation and the housing bubble are transforming our communities faster than ever,"
How do South London Cares Help?  
Following my colleagues' amazing success in raising over £800 for SLC through the Pub Quiz, a few of us at SALT were invited along to a Technology Workshop. A Technology Workshop is just one of the many ways that SLC bring the community together and specifically we as individuals were partnered with neighbours to help them with all things TECH! As a specialist digital recruiter in South London, we felt this was a perfect time for us to step up to the job!
Here's how we got on for the Salt & South London Cares Technology workshop on Monday 8th October:
Oli, Sarah & their neighbour Jan.
Jan came prepared with a strict agenda of what she wanted to learn from the tech workshop. Firstly, her phone that was given as a gift from her family to stay connected two years ago and she hadn't been polite enough to admit that she couldn't use it!
Oli & Sarah helped Jan choose a ringtone, set up emails, how to connect to Wi-Fi and use the lock screen (rather than turn it off every time she wasn't it. They also transferred photos from laptop to phone from numerous trips that she had taken in the last couple of years.
Fun fact: Jan is also part of a drama club and was rehearsing for a play that she and her fellow drama-teers had written themselves.
Elliot & Brenda
Elliot teamed up with Brenda, a regular at the South London Cares Workshops. Brenda hadn't updated her software on her iPad in over a year and so Elliot helped with that. In addition, Elliot helped Brenda (A Native Danish Speaker) install a Danish keyboard on her phone.
Elliot & Brenda also got to work in unblocking a friend of Brenda's who she recently had a little argument with … Elliot the techy peacemaker!
Rich Norris Salt Sales Director & his neighbour Mike
Mike loves running, and he has even set up his own group for people in south London to remain more active by arranging walks with the local community.
Rich helped Mike delete his Facebook account, add a security code to his phone and set up albums within photos. In addition, they looked at how to report spam emails, silence the phone to vibrate and set up shortcuts for Mike's most used apps.
Cheryl & Michael and their … tea making skills!
Initially, Cheryl and I saw that both volunteers and neighbours were fed and watered with tea, coffee and biscuits. Cheryl partnered with Bola who wasn't confident in emailing on a laptop and so Cheryl & Bola got to work on that by sending test emails for Bola to get used to it.
As for myself, well, what can I say?! I teamed up with Dougie, a South London Cares regular, who came along on that day for a cuppa and a natter. I didn't expect to be learning something from my neighbour. Dougie who had heard about this amazing cause through his doctor's surgery suggested I should buy a phone case that comes with a built-in stand to watch things on when travelling.
Amazing tip, thanks Dougie, I've ordered one for my upcoming trip to Berlin!
The Afterthought
Technology and situations discussed here are things that many of the younger generations take for granted and it's the amazing work of these technology workshops that South London Cares do, that make life easier for our older neighbours.
If you want to learn more about how to get involved with South London Cares or other locations that they work in, then check out how they do it below or get in touch with them directly.
Don't be a stranger.
South London Cares' group activities take place several times a week and offer a chance for older (over 65) and younger neighbours to share time, laughter and new experiences that help everyone to feel a part of our rapidly changing city, rather than left behind by it. Clubs during weekdays, evenings and weekends include dance parties, new technology workshops, 'back to work' business visits, choirs, pub clubs, script reading sessions and more.
Love Your Neighbour is a friendship matching scheme bringing older and younger neighbours together to spend a little time one-to-one. Friends will normally enjoy a cup of tea and a natter about all sorts – from work to relationships to days gone by – and build deep and mutual friendship over time that help bring a little of the outside world in for neighbours who can struggle to get out.
South London Cares' pro-active outreach work harnesses the time and connections of young professionals to identify and introduce older neighbours to the wider network. Our innovative Winter Wellbeing project, for example, helps neighbours to stay warm, active, healthy and connected at the most isolating time of year.
To shape your future with Salt, a leading digital recruitment agency, send your CV to enquiry@welovesalt.com or use our search to find jobs in London. You can also keep in the loop by following us on Facebook, Instagram and Twitter.