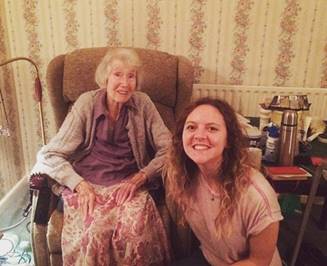 Lauren Chamberlain from our London office explains why she volunteers with South London Cares, her experiences with the charity and those it helps, as well as the fundraising efforts she has led at Salt to raise money for such a worthy cause. 
I first reached out to South London Cares in June 2016 to enquire about volunteering. Prior to this, I had done ad-hoc charitable activities, such as handing out homemade sandwiches each week to people sleeping rough close to my work, however, I wanted to do more. After researching various local charities online I struggled to find one that was compatible with my hectic diary – typically they were only seeking volunteers during my working hours. Finally, after sharing my frustration with a friend she recommended I reach out to SLC. She had been attending social clubs for the past two years with her colleagues at Lambeth Council.
I was excited to read about what SLC were doing, particularly as I have always appreciated the company of my seniors – they have great stories to tell! After my induction, I decided that their Love Your Neighbour programme would be the best fit as it allowed a lot of flexibility around my schedule and I was keen to build a one-on-one relationship with an older neighbour.
I was soon matched with Peggy in Clapham who was 98 at the time! Although she did have family locally it was nice for her to have other visitors as she was unable to do more than sit in her chair all day and so I started visiting every week. I heard some wonderful stories, one of my favourite being that she gave birth to one of her sons during The Blitz in a central London hospital. When I asked if she was scared, and had been worried throughout the war, she just shrugged and said she got on with it like everyone else and it was a great bonding time for her generation. I had huge admiration for her. She was also curious to learn about my life and enjoyed hearing examples of how the modern world was evolving, although I couldn't ever convince her of the benefits of Uber and Airbnb.
From my friendship with Peggy, I was able to see what great work SLC do, from their fundraising to organizing the multitude of social clubs they host, and even accompanying me to Peggy's funeral the following year and the support given to me when she passed. I started to take a more active role in fundraising at my work which started with bake sales and evolved into our CSR committee organizing a Pub Quiz which took place last week. The enthusiasm from my colleagues at Salt enabled us to secure some excellent raffle prizes, host a fantastic quiz, and raise £840 for SLC. I know this money will make a difference towards tackling the loneliness my older neighbours in South London face and that's a great feeling and further encouragement for me to do more.
Myself and a few of my colleagues will also be attending a Technology Workshop next month where we can teach some of our older London neighbours to use their various devices – I am hoping we will do a good job considering our focus at Salt is to recruit professionals in Digital Transformation!
In the meantime, I will continue to see my new LYN match Joan every week who I was introduced to in February this year. She lives just around the corner from me in Streatham and we were expertly matched by SLC based on our several shared interests. I love supporting SLC and will continue to do. To me it doesn't feel like volunteering – it feels like building great friendships.
To find out more about the great work South London Cares does and how you can get involved click here.
To shape your future with Salt, a leading digital recruitment agency, send your CV to enquiry@welovesalt.com or use our search to find Technology jobs in London. You can also keep in the loop by following us on Facebook, Instagram and Twitter.