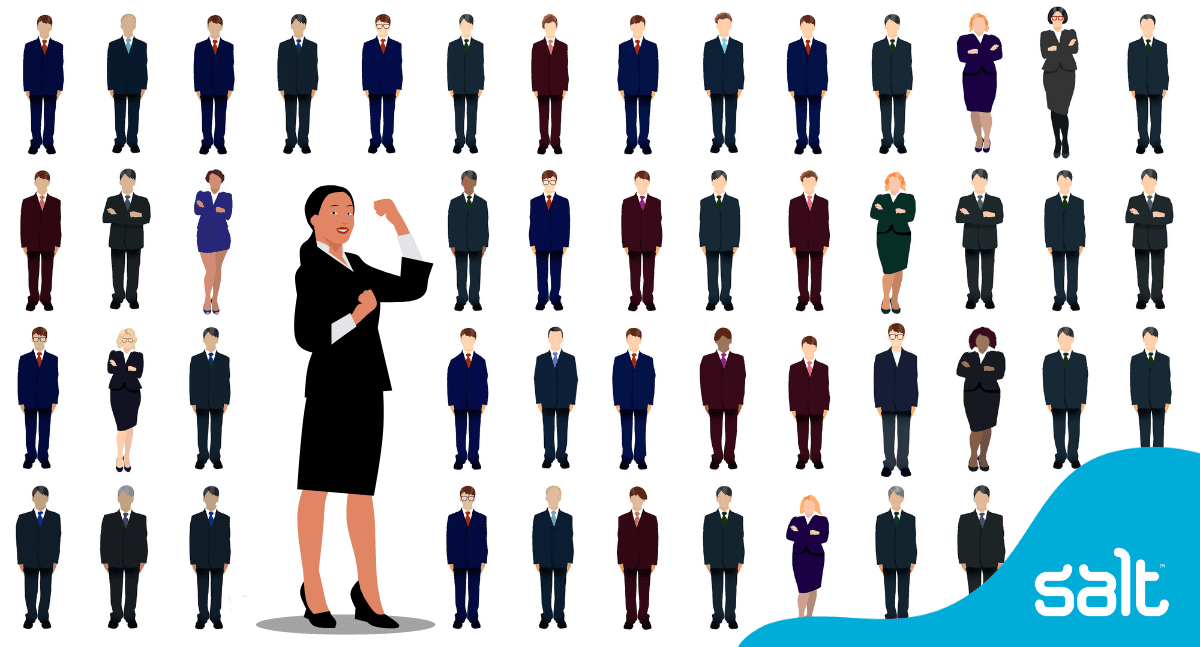 One of our most frequently asked questions here at Salt is how to be a successful freelancer or contractor: How do you set yourself apart from the competition? Is there a way to market yourself as something unique so that clients come to you?
Our handy guide offers a few valuable tips to help you stand out in a crowd. We'll outline how to add value to your client's lives and simple ways to promote your brand effectively, so you can enjoy a successful freelance career in 2023.
Here are our 8 top tips on how you can stand out based on our expertise in digital freelance roles:
How to stand out as a successful freelancer:
Find a profitable niche
Develop your personal brand
Leverage your LinkedIn profile
Market yourself through social media
Build a network of clients
Establish strong connections
Create a stand out website
Stay ahead of the curve
1. Find a profitable niche
The first step is to determine what your niche is and what specific services you would like to offer potential clients.
A common mistake people make is to try to be everything to everyone at once.
We recommend focusing on your unique skill set so that you can deliver high quality work on clients' projects. This is a great way to become trusted in the market so you can enjoy a successful freelancing work life.
Think about your previous work experience:
What did you excel in?
Do you have a particular strength or passion?
These factors can help you to choose an area that interests you and try to become the best in that niche.
2. Develop your personal brand
As a freelancer, sometimes referred to as a contractor, you are your own brand. You're unique to your business so why not leverage that in your favour?
We recommend combining a strong online presence with meeting potential clients face-to-face. This is a great way of finding work and being easy to find and easy to remember.
Your personal brand will need to be eye-catching and stand out from the rest.
Try to use emotive language in your content and capitalise on the unique aspects of your unique skill set and personality traits. A strong social media presence is key to getting noticed when looking for ways on how to be a successful independent contractor.
One of the best platforms for freelancers and a great way to build your personal brand is LinkedIn. With over 830 million members in over 200 countries worldwide, getting your profile noticed by potential clients can feel daunting.
Try to engage with people who inspire you or work in the same industry and share your examples of work and achievements.
Share personal stories such as details about your career path, work challenges or causes you are passionate about.
Create helpful posts about moving into the freelancing and contracting world to help make other people aware
Salt Business Development Director, James Crawford, also recommends including your availability in your title so recruiters know when to contact you about potential jobs.
Optimise your profile with industry keywords so that when recruiters search for your skillset, you come up.
Connect with brands you enjoy and senior leaders in your expertise, so you're among the first to see if they need help.
4. Market yourself through social media
Another handy tip when looking for ways on how to be a successful freelancer or contractor is to market yourself and your personal brand. It's important to be visible to potential clients.
Ensuring your website is up to date and has contact information as well as posts about a few projects you've completed can help to grow your business.
Social media can be a powerful marketing tool and using your social media presence in the right way can help to open doors and find new work.
Whether it's through LinkedIn, Instagram, Twitter, Facebook or even TikTok and YouTube, it's important to create a strong online presence to help establish connections and secure new job opportunities.
5. Build a network of clients
According to statistics from SkillScouter in 2023, three key players in freelancer platforms include Fiverr, Upwork and Freelancer.com. Market place platforms like these can make it easier for freelancers to source new clients and secure new work, connecting them to those in need of their services through the platform and taking a small percentage as commission.
We also recommend finding a digital group where you can connect with like-minded freelancers. It's a great way to meet new people and clients and build up your network. It's important that you aim to be a valuable contributor offering help and advice where needed and you'll soon find that you'll be recommended for projects by happy clients!
Some groups that our team loves include: The Marketing Meetup, The Copy Club, and the Designer Slack Worldwide Community.
Similarly, it helps to build a network of client by finding recruiters who specialise in your expertise so you can see their opportunities and build rapport.
6. Establish strong connections
If you've been freelancing for a while you may have established a strong connection with previous clients. Those good connections you've already made can help land more projects in future. Reach out to ex-colleagues and clients and catch up to find out if they have any new projects in the pipeline.
In our experience, the below points are key to establishing a great connection with your client:
Communicating effectively and consistently throughout the project
Exuding energy, confidence and a positive attitude
Exceeding expectations and delivering exceptional results
Understanding your client's goals and vision
Follow up with your client once the project ends
7. Create a standout website
Whether that's a portfolio or Github, have something easily accessible so clients can get a good idea of your work and range. It's highly recommended to build your own website, you don't need to code to be able to do this, Wix, Canva and Shopify (plus many more) have several templates available that look professional.
Holley Potts, Salt's Associate Director Recruiter says if you're a creative: "Only include 5 projects in your portfolio. We don't want to see every single piece of work you have ever done. Clients are time poor, and you need to instantly wow them, not let them have to wade through pages to find the good stuff. Keep work current and make sure it shows the big picture of your work, put your best work out there."
Consistent branding helps make a great first impression so make sure every touchpoint is professional from your website to emails.
Another top tip is to create landing pages that are fit for purpose and contain a clear call to action (CTA) such as a 'contact me for a quote' or 'book a meeting now.'
8. Stay ahead of the curve
As a freelancer, you need to constantly stay ahead of the curve, and to secure new business it helps to be up to date with the latest developments in your industry.
Keep up to speed with trends and news by following blogs, magazines, and influencers in your space.
Invest in training where possible to keep adapting and developing your skills.
Take the time to reflect on your experience and join this up with what you're reading and learning, clients will want to hear your take on a trend or idea and this can help decide what your perspective is.
Ready to start a freelance career?
Our award-winning digital recruitment agency is perfectly positioned to help you find your dream job.
For exciting opportunities across Consulting, Creative, HR, Marketing, Sales, and Technology sectors, visit our jobs page where you can browse through a variety of available positions from all around the world.
To shape your future with Salt, a leading digital recruitment agency, upload your CV or get in touch.
You can also keep in the loop by following us on LinkedIn, YouTube, Facebook, Instagram, Twitter and Spotify.