Key takeaways from the LinkedIn 2022 learning report (The transformation of L&D)
The LinkedIn learning report 2022 shows us that learning programs are being transformed. Now businesses need to keep pace and accept change as a chance to innovate. Providing employees development schemes with 'humanity to employee wellbeing, diversity, and inclusivity.'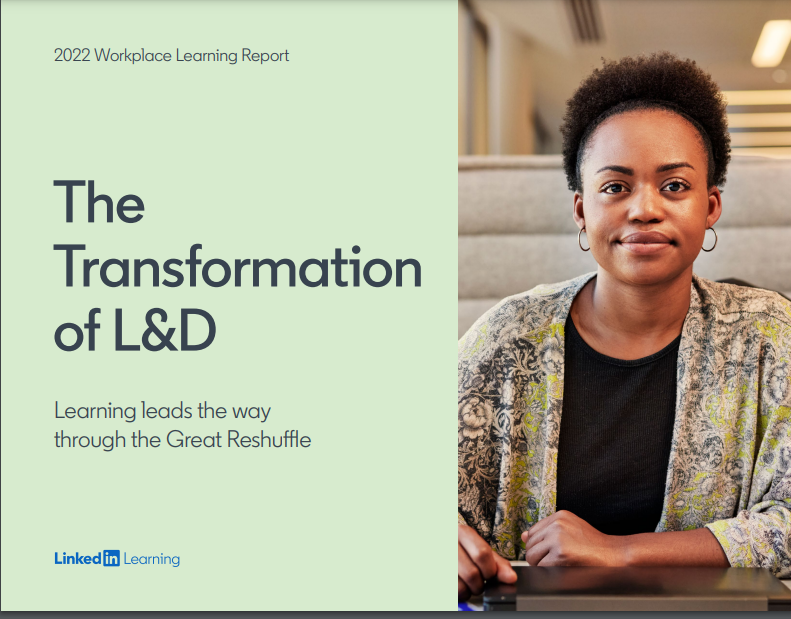 The report includes urgent priorities in skilling, retention, wellbeing, leadership, and DE&I.
Skilling: Enhances employees' existing skillset, benefitting everyone regardless of position.
Employee retention: Ensuring employees feel fulfilled and providing growth opportunities that in turn will improve retention.
Wellbeing: When we learn, we connect. This can help increase workforce happiness and satisfaction.
Leadership: To train leaders in the changes of management and find the leaders of tomorrow.
DE&I: Keeping important topics at the forefront of business culture and nurturing a diverse workplace.
"Flexible working, mental health support, diversity, representation and corporate social responsibility are fundamental components to attracting talent – they are no longer a 'nice to have'."
Laura Maxwell-Smith, People Director, Salt

Culture and the chief learning officer
In 2019, the opportunity to gain experience ranked number nine in importance. In 2021, it moved to the top spot. This is a significant move to the top in two years. 'The headline is clear, learning powers culture.'
"L&D professionals' are now seen as your Career Personal Trainers. Not your powerpoint lecturers presenting time management models from the 80s from 10+ years ago"
Charlotte Smith Global Learning, Development & Talent Director, Salt
This means that learning needs to become part of everyday work life. It is no surprise that chief learning officers are now key to the strategic plans of the business, and this is growing. Demand for learning and development specialists increased by 94% in July 2021. With around half of L&D professionals expecting budget increases globally. The learning development team is also not siloed. Now they are sitting on the board, with their role linked to business culture. Connecting learning to HR, Talent, Marketing and more.
"I decided to jump ship from a billing role in 2012, I went from negotiating terms with customers to negotiating the importance of why learning and development absolutely deserved a place in creating a high-performance culture, and back then the latter felt the harder fight…we were a "cost". Fast forward 10 years to the present day, employees understand the value of "self". Training, coaching, and well-being are just as important when you are "on the clock" as it is eating an apple a day and 30 minutes of exercise when you are off the clock"
Charlotte Smith Global Learning, Development & Talent Director, Salt
Where to focus your learning and development?
Now we know it is key, where do you start? What should be the priority focus? For example, Europe, The Middle East, Africa, and North America have the top priority for learning with leadership and management training. In Asia, the focus lead is upskilling and reskilling employees.
#1 Manager training in soft skills
Care and well-being have been at the front and center, especially during the pandemic. Most critical to the development of care? The manager. Therefore, there has been a 49% increase in attention to management training and support. Managers need those soft skills to attract and keep talent.
#2 A new wave of AI-enabled tools
Not only is there an increase in training needs, but a new wave of technology to help deliver it. With more AI-enabled education tools there are augmented, and virtual platforms available for workplace learning. These tools will help supply a balance between virtual, hybrid and traditional learning methods.
#3 Understand the employee
We must circle back to the people and the employees because expectations are on the rise. Like consumer behavior shifting we as employees expect to be able to grow. So, it is important to listen to what is expected. L&D plays a significant role in diversity and inclusivity and in some cases, L&D is taking that responsibility full on.
"Employees are now asking before they join a company, does this organization align with my values and beliefs? Not only are employees after a rewarding job, but a clear progression path, continual development, and a place where they can belong. This is why employee value proposition is so important"
Laura Maxwell-Smith, People Director, Salt
Read the full report https://learning.linkedin.com/resources/workplace-learning-report
Looking for new talent to develop? Get in touch
Hiring? Salt connects you to outstanding top talent worldwide
If you're interested in hearing about how Salt's top talent recruitment experts around the world can help with your hiring right now, get in touch. Click below to contact the closest Salt team to you!
Keep up with Salt's top talent job market insights and hiring advice! You can keep in the loop by following us on. LinkedIn, YouTube, Facebook, Instagram, Twitter and Spotify.