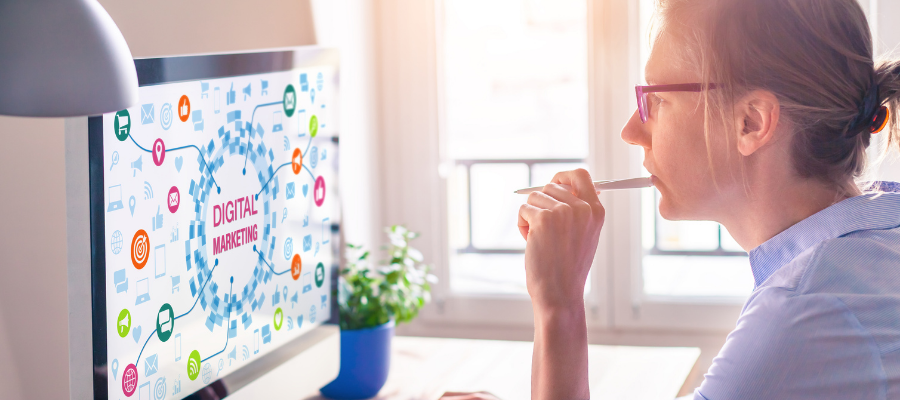 Marketing plays a critical role in attracting new customers, but it is a complex field. The goal is to generate more revenue through various campaigns and strategies that engage prospective customers while establishing brand presence and improving visibility. If you are doing it alone, this may be an overwhelming task, which is why hiring a Marketing Consultant may be a good idea.
However, many business owners are still hesitant to hire professional marketers to take over their marketing campaigns. In many cases, this is because they feel they can handle it or delegate the tasks to inexperienced in-house employees. As a result, the company may suffer. 
Benefits of hiring a marketing consultant
Hiring a Marketing Consultant can have a massive impact on your company. According to a survey by Small Business Trends, 28% of companies said their top priority regarding marketing was to increase sales/revenue. Meanwhile, 19% said their main goal was to improve brand awareness. This was followed by converting leads (15%), standing out from competitors (13%), and increasing website traffic (11%). A Marketing Consultant can help with all of this. 
They are well-versed in handling various tactics to elevate your company's visibility and engage customers. Additionally, Marketing Specialists know which platforms and outlets exist that are most appropriate for your business. These may range from traditional forms of marketing in outlets including newspapers and magazines to online platforms like social media. 
It's important to note that digital is a highly effective way to market your business. Recent research has shown that 70% of Internet users would prefer to obtain information about products online instead of through traditional advertisements. There is still a demand for the latter, but it is also worth considering bringing in a Digital Marketing Consultant. These professionals use digital technologies to identify the most effective ways to implement marketing campaigns and create content for each platform appropriate for its audience.
Still on the fence about it? Various other benefits come with hiring a marketing consultant. These include:
Saving money
Consultants are generally much more cost-effective than hiring a full-time employee.
Gaining access to the latest tools
Hiring a Marketing Consultant or Digital Marketing Consultant can give you access to software, services and analytic data reports that you usually would not have to let.
Allowing staff to work efficiently 
Overloading employees with marketing tasks will only slow down productivity and lead to burnout. Bringing in a consultant will free staff up and allow them to focus on their jobs without additional stress.
Saving time to find an employee
Hiring a consultant is much easier than finding a full-time employee. 
Should you hire a Marketing Consultant?
Many business owners are concerned about the expenses involved in hiring a Marketing Consultant. Studies have shown that just three out of ten small businesses invest enough in marketing. So, how do you know whether hiring a Marketing Consultant is the right step for your company? Here are some indicators that it's time to bring in some help.
Profit margins are declining
A downturn in business may be a sign that you need a marketing makeover to give you an edge over your competitors.
You have a basic marketing strategy
The truth is that most marketing strategies can be optimised, especially if you are using a very basic campaign, which is where a good marketing consultant comes in. 
You have limited time
Planning and implementing a marketing campaign does take a fair amount of time, and if you are already pressed for time and juggling several tasks, your marketing strategy may suffer. Having a person specifically focusing on this will free you up.
How to hire a Marketing Consultant?
It will help if you put careful consideration into hiring a Marketing Consultant. Here are some things to keep in mind: 
Consider your budget
Yes, you want the best for your company, and this applies to the professional help you bring in to revamp your marketing campaign. Marketing Consultant come at varying costs, which is why it's essential to analyse your budget. What can you afford? How much are you prepared to invest in marketing? It's also important not to underspend as this could result in low-quality marketing.
Do some research 
There are so many Marketing Consultant out there, and you want someone who can meet your needs. It does not hurt to do a bit of homework, and with the internet at your disposal, you can easily do some digging.
Check their references
A good Marketing Consultant should have case studies to present that show the results of previous projects, and it is a good idea to request these along with references of previous clients. This allows you to reach out and hear more about the work they have delivered. 
Conduct an interview
Hiring a Marketing Consultant is no different to hiring a new employee, which is why you must conduct an interview before committing. Make sure you have a plan in place ahead of the interview. Know what questions to ask and pay attention to what they ask you. Important topics to discuss are your goals and what you hope to achieve, who your target customers are, who your competitors are, and your idea of success. This will help the marketing consultant formulate a marketing strategy, but you should request a proposal before implementing it.
Pay attention to skills
A good Marketing Consultant should possess various hard and soft skills, but the following are essential, especially when hiring a digital marketing consultant.
– An understanding of social media marketing as well as search engine marketing
– Knowledge of reputation, image, and brand management
– An understanding of consumer behaviour
– The ability to use analytics tools and marketing software solutions
Now that you know the basics, the next step is to find the right candidate for the job. As a digital recruitment agency, Salt can help you. Our focus is to provide employees with candidates across digital roles – that includes marketing. We are also available to offer advice and assistance to help you make informed decisions. If you have decided to hire a Marketing Consultant, get in touch to find out how we can help you by selecting your location below: