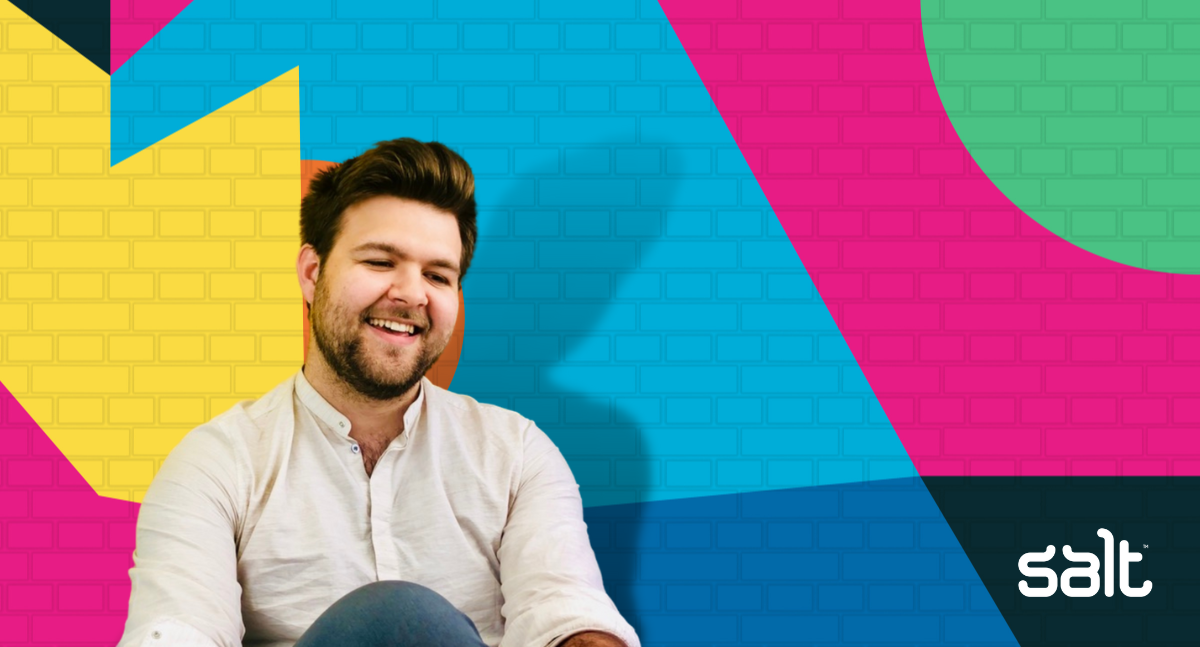 Product is a fast developing space and product leaders must continuously adapt to stay ahead. Alex Tomlinson, Head of Product at Lean Technologies, shares his experience and expertise to both help candidates looking to break into the industry, and managers progress and transform into great leaders of their teams.
In this interview series Associate Director Consultant for Creative, Holley Potts, speaks to customers from all different sectors within the world of digital to explore what Product looks like in different companies, what roles exist from Product Design to Product Management, and how you could transition into the space!
A word from Holley Potts
I started this interview series to give you a snapshot into creative career journeys and make expert insights accessible to all: from what employers are hiring for and how candidates can break into these exciting roles, to what the future holds for the industry as a whole.
I am so excited to speak to my next delightful guest, Alex Tomlinson, Head of Product at Lean Technologies, who offers a fascinating window into the world of Product. I'm particularly keen to get into detail about how Product can look so different in different organisations – will he agree with Jonathan Kokké that Product Owners are a thing of the past and only in place in legacy organisations? A big thank you to Alex for featuring his thoughts and insights here and opening up the world of Product with Salt!
Lean Technologies are an Open Banking Platform for Banks and Fintechs in MENA, providing the Data and Payments tools to empower MENA's next generation of financial products.
Follow @alextomlinson on Twitter or on LinkedIn to keep up with his work and insights.
Product is different at every company; how do you know what Product role is right for you as a candidate?
I spend a lot of time interviewing candidates and one of the things that I'm always trying to understand is whether or not they've done Product in the shape that I want my Product team to operate in. It's a relatively new field and it's super open to interpretation.
There are multiple different roles that often get bundled into the umbrella of 'Product'. There's Product Managers, Project Managers, Product Owners, Business Analysts… the list goes on. A lot of organisations split the role of a Product Manager up across multiple functions.
What you as an individual need to understand is, what does Product mean to you?
What is the shape of the role that's right for you and how does it align with what a company wants? You need to understand how much of the complete role you do, versus how much of that complete role is actually on offer with a company that you're talking to. For example, a company may be looking for a Product Manager, but the role is closer to a Project Manager.
You need to prepare to ask the right questions:
How much responsibility and ownership over the product do you actually have?
Are you just getting requirements and passing them through to the engineering team?
Are you working directly with your engineers?
Are you accountable and responsible for tracking the metrics to make sure that you're driving for success?
What are the support functions that you have within your team?
Do you have a Business Analyst or are you expected to do that work?
Do you have a Scrum Master?
Do you need to be planning the map for the next six months with the team behind you executing, or do you need to be in with the team operating alongside them day to day?
You need to have a view on what the 'right' answers to these questions are, then find a company that aligns with that responsibility.
How would you help non-Product people understand Product?
We talked about how Product is different in every organisation. There's also a truth that it doesn't exist in a vacuum because it is effectively connective tissue between multiple different teams, often between Design, Engineering and Commercial. This means that the role of Product needs to be a shared vision between major stakeholders.
Add to that that Product is incredibly accessible, it's much easier for a Chief Executive Officer (CEO) to get involved with Product in a way that often isn't possible with say, Engineering. This compounds: Sales, Engineering, Design and Operations all have strong opinions on what the Product needs and you have to constantly juggle that.
The most important thing is that Product has its own seat at the top of the table.
You need a crystal clear vision for Product and a strong Product Leader to challenge the C-Suite and to actually have a view on how their organisation should be run and what its roles and responsibilities should be. Otherwise you'll end up with a Frankenstein's monster of what everyone else thinks they need.
Building this vision is really about good storytelling. You need to take people that aren't in Product or Tech on the journey and show them what Product can do for them in non-technical terms.
Do Product Owners have a place in your working progress – or do you use Product Managers instead?
Just like Product is different at every organisation – so is Agile. It's responsible for a lot of the worst things that are happening in my opinion in the industry.
Nothing makes me more upset to hear about a Product Manager running a relatively small team that has a Product Owner, a Business Analyst, a Data Analyst, and three other people, just to run what I personally believe is one role.
The Product Owner role is something that's a very specific role within Agile but it's not what a Product Manager (PM) is. The Product Owner roles and responsibilities are only a subset of those of a PM. This can sound like too much for one person, but Product Management is supposed to be hard. You need to have everything.
Going back to the original question, it's very different in every company. We're talking about my opinion here, what's right for me and my team isn't necessarily right for every organization – but for my team I want people empowered to make decisions and drive success across every facet of the products they have under management.
You came from a Product Design background – how did you get into the world of Product?
My background is all over the place. I graduated with a degree in Graphic Design, and joined a small Branding Agency.
I ended up looking after web work and working with developers during my time there and then we were winning bigger contracts until we won a digital transformation brief with EY where I was introduced to Scrum and Agile.
At the time I was a "Digital Designer", I don't think that term really exists anymore, but I found the work I was doing on that project to be exactly the kind of work that I loved doing. After researching I came across the title Product Designer and realised that's where I wanted to take my career. So, I joined a company that offered that role and moved to Founders Factory, a startup incubator and accelerator.
I was basically building businesses over and over again for two years. I went in as a designer, very naïve, and didn't really know much about business. Actually, it was a really good crash course in what does a good business look like? How do you convince someone about having a viable investment opportunity? I was also working with Product Managers, and I was working with Engineers more directly.
The move to Product from there was fairly organic. I often see Product as a Venn Diagram between Business, Experience and Technology: when you get experience in two of those spheres, someone taps you on the shoulder and says "you'd be good in Product" – and that's exactly what happened for me.
I picked up a project internally, which ended up with me leaving Founders Factory as a co-founder of one of the businesses as CPO.
I often get asked about "how do I get into product?" – and broadly I don't think there's a conventional career path into it. There isn't a university course that will teach you everything you need to know, and it's far more vocational. It's about building up a large box of tricks in adjacent fields before transitioning into a "proper" Product role with the title.
How did you make the transition from Product Manager to Product Leader?
Being a great PM is all about sucking up as much responsibility as you can. If there's something that you can bring on and you can add another tool to your belt, you keep doing that until you get to the point where you're an incredible Product Manager.
To be a great leader you need to unlearn all of those habits and get good at delegating all of your responsibilities. You have to get really good at coaching people to do the things you used to do.
It is pure management in a lot of senses, right? How do I get the most out of the team I'm building? How do I shape them to be the kind of team that I need for us to build the Product vision that we have? At an organisational level, how do I split that vision into multiple work streams and how do I make sure that people have enough to really accelerate business? That each function and each person in your team have the opportunity to impact the business the way that you want them to? And that's it.
Your product effectively becomes your team, and it takes just as much, if not more work to get that product performing.
So as Head of Product, how did you learn to be a good leader?
A lot of mistakes. I've always been a vocational learner. I learned by doing, but I think it's a case of knowing when you're making mistakes.
One of the top skills you can have is self-awareness. Understand where you're not performing and be transparent with people. Ultimately, people respect people.
I also spend a lot of time thinking about the managers that I had in the past and where they got the best out of me. Balancing that with the kind of leader that I want to be and what plays to my strengths. For me, I highly value autonomy and communication skills in my team because I'm not capable of managing and directing the smaller details of my team, nor do I want to.
I believe the reason that we hire people is so that we have less worries. It is about building a team that you can trust.
In a startup the primary role of the CEO is to build and manage an executive team that can deliver on their vision. The same responsibility is there for a Chief Product Officer, or a Head of Product – the most important thing you can do is hire and build a team around you that you would go to an all-day rave with.
Hiring? Salt connects you to outstanding top talent worldwide
If you're interested in hearing about how Salt's top talent recruitment experts around the world can help with your hiring right now, get in touch. Click below to contact the closest Salt team to you!
Keep up with Salt's top talent job market insights and hiring advice! You can keep in the loop by following us on. LinkedIn, YouTube, Facebook, Instagram, Twitter and Spotify.