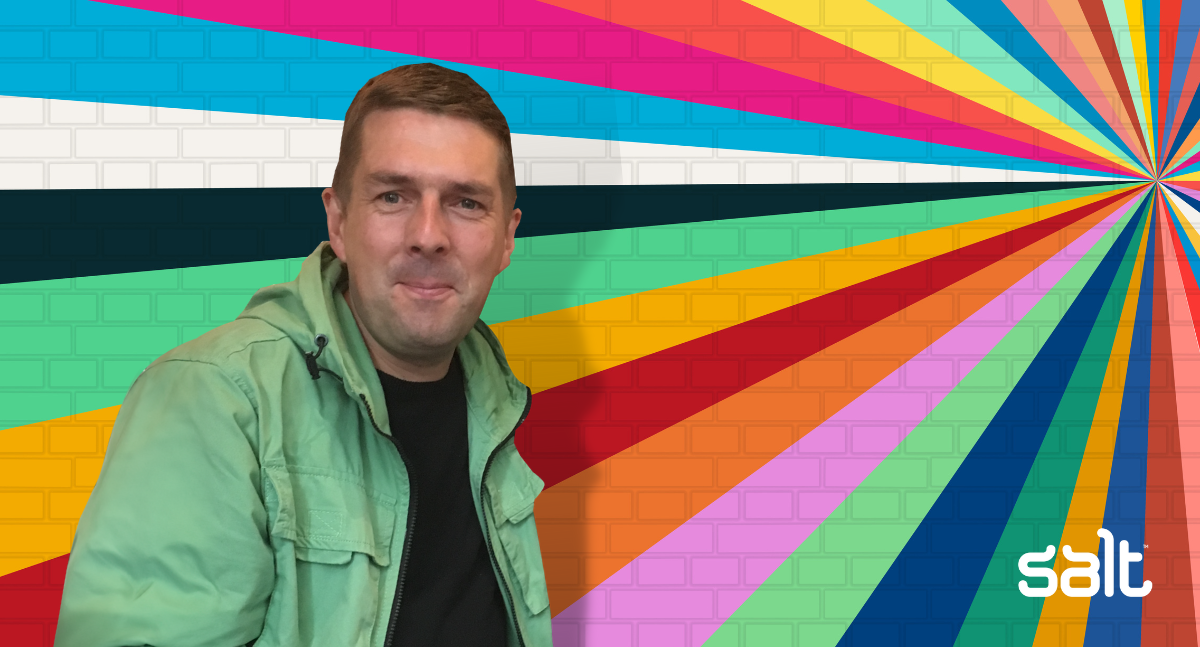 An inclusive design industry produces better work that reaches more people more effectively. But there's a long way to go to include new voices in this industry. Making opportunities and education more accessible is crucial to building a better and more inclusive world for creatives – here's the story behind one community doing just that.
Chris Sanders, an experienced Creative in his own right, founded Right Aligned, an inclusive design community and platform, to open up the world of design. Here the full stories behind successful creatives are showcased honestly and authentically so creatives can learn together. Here's his story – and his insights for designers new and experienced working today! 
Skip to:
See Salt's open Creative roles around the world!
AU | BE | CA | HK | MY | ME | NL | NZ | SG | SA | UK | USA
Listen to this interview!
Introducing Chris  
My name's Chris Sanders. I am the founder of a platform for creators, focused on real world learning, called Right Aligned.
We're bringing together different forms of content that really gives creatives, especially younger creatives, but people across the whole spectrum, an opportunity to learn from like-minded people that are currently working in the industry.
I've been in design for 23 years this year. I have worked in roles from junior to mid-weight, senior, and now founder. I've also done freelance for big studios across the country and small agencies with different sorts of businesses and brands.
I've always been fascinated by the idea of creating communities within the design industry itself.
Right aligned host free or affordable events and share resources for aspiring and experienced creatives. The purpose of what we're doing is to create that connection between people at different stages of their career with others that are currently working in the industry to hopefully guide everybody towards an inclusive and accessible future.
Right aligned host free events and share free resources for aspiring and experienced creatives. Find out more on our website!
What are some of the biggest challenges for the design industry as a whole?
Equality is a big, big issue.
In terms of different people being given access to opportunities that allow them to flourish and grow. It leads to the loss of skilled people in certain areas of the country because opportunities don't exist.
It's not fair that it's predominantly white men at the top of the industry. But do we just bang on about that on social media until they have a heart attack? Or do we do something about it? As Right Aligned, we can actually be the activist in this, and showcase diversity in the industry.
For example, we've created our own award ceremony and we are funding it all ourselves. So we can go out there and find the diverse talent. We'll go and find one man studios, or people from different cultures and backgrounds, who're not normally getting the opportunities, and recognise them.
We've had more women creative directors on our talks because we've purposely gone out there to find them as opposed to just negatively going there aren't enough of them.
We need to consciously address these things and change them.
Gap between education and work.
Another of the biggest challenges that I see is the difference between what education, especially University, is designed to do, compared to what industry needs young people to be able to do.
There seems to be two very different agendas in terms of what employers and studios need in young creatives especially, and what they're being taught in the education process. There seems to a divide in terms of what the purpose is.
Entry level roles are undervalued.
Until you start to address that gap, there's always going to be underlying issues such as job descriptions for juniors being overly detailed, and needing so much experience, with such a low salary.
When I started out juniors didn't need to know 20 different skills. You just had to have a willingness to want to learn beyond the job. Be ambitious, be energetic, and those core personal skills were important, as opposed to knowing every piece of software out there and having lots of technical skills like branding, website design, differ sorts of illustration and animation skills, and more.
Things like equality are easy to discuss but often very little is done about it.
Actually, providing accessible and equal opportunity as opposed to just sort of saying that's what you aspire to do is important.
There could be a lot more work by people in the industry to put this into practice and, and actually be proactive. To go out and find people for diverse teams. To not live by the idea that the culture of a studio is very flippant and materialistic like football tables and free coffee. That's not culture. That's a form of hiding.
At the moment there's a small pool of talent is usually driven by financial status. Those that can afford to live in London as an intern and not make any money. There's a very small percentage of people that are able to do that. If we don't break down those barriers that will always be the system, because it always has been the system. And it'll continue to be that way.
Design will basically become an elite hobby.
What we do, or when it's done to its best, really impacts people's lives: the way that businesses communicate with consumers, and the way that we see products and services. That shouldn't be an exclusive pastime. 
Read our ultimate guide to promoting diversity and equality in the workplace!
What does Right Aligned aim to do?
Right Aligned was started during the pandemic to create community and connection for creatives that were isolated.
The pandemic was very difficult, especially for young people isolated from their friends and peers, graduating online. There were also restrictions: not being able to meet up, not being able to go outside.
So how could I kickstart something? Well, I decided to have a zoom conversation with different people, in the industry, removing the idea of their portfolios and their work and talking about them as individuals about their experience of a career in design.
How are the talks Right Aligned host different to what's out there?
I used to go to talks when I was younger. You'd go and see somebody standing on a stage running through a portfolio and they've gone from graduating to being a creative director. What about the 30, 40 years in between? They always seemed to leave that out because it wasn't as glamorous. But what I wanted to try and get across to, especially to the younger demographic we were aiming at then was that we all, we're all human beyond this work.
We've all got a story. We've all been through our own difficulties and we've all had, at times, great moments, of seeing a project signed up and, you know, seeing it out in the world.
I wanted to really convey that to this younger demographic that there's a lot of people out there that are in a similar situations, a lot of people that have been in dark places or at really big highs.
We're all connected by a common theme of design, but these are real human emotions and the ways that we think and feel. So Right Aligned has also become a bit of a lifeline in some respects.
It's empowering and inspiring, but all in all, it's about our stories, what we've experienced and how that can help others grow and develop.
The things that people feedback, whether that's privately or publicly, is something I never expected. And it's really made me open my eyes up to what we are able to achieve.
The impact that we can have on people's lives and the way that they think or feel, and what they feel they can say openly after a Right Aligned talk, is amazing.
With Right Aligned, we can really give people the opportunity to learn a skill, contribute to their, career or their skillset, but also, we provide a safe space to talk openly about things that they don't feel they can anywhere else.
It goes back to the equality and accessibility, but we want to build a better industry for people moving forward.
What has been the greatest challenge for you founding Right Aligned?
I think the biggest one is myself because I've never done anything like this before. If I think back to my career in design, it's been very insular in studio walls, working with brands and going through roughly the same sort of process every time. It's a passion but it's also a job.  
This is the first time in 23 years of being design I've ever dealt with what I do. It's always normally been for clients based upon what myself or the team have learned over time. With a process we've proven.
Even though I'd worked for myself for quite a few years and I'd experienced the day-to-day running of a business – you end up with 1% of your time in design and the rest of it is being a professional email or paperwork shuffler.
The biggest challenges are knowing what needs to be achieved and then somehow preventing myself from achieving it. And because it's just me, I don't have other people to bounce ideas off.
You can have these blocks and you think why? Why would anybody in the design industry want to listen to what I've got to say about how design should be done or how the industry should be run? That probably comes down to imposter syndrome most of the time.
There's also 1,000,001 things that need to be done. When you get excited and things grow and develop, that list gets longer and longer. You can start to get a bit more overly ambitious and end up doing jumping the gun and doing about five or six things in the last month that should have been like 105th on the list.
I find that people will say to me about something we've done, that's incredible. That's amazing that you've achieved that. But my brain automatically goes, what's next I do have this issue and it does lead burnout. You can mentally destroy yourself because it's always next, next, next, next, next, next, next.
How do you cope with burn out?
I had a really bad case of burnout about 18 months ago. It was tough. I was literally in bed in a dark room and I just couldn't get up. I couldn't move. I'd been burning the candle at both ends which is why it probably happened. And that is so recent in my mind that I can feel it when it starts to arrive.
I never used to think about this but now I'll regularly go out for a walk or something without any technology and just leave it all behind. It's a way of decluttering a bit mentally.
I'm still always thinking about things, but I think in taking some space you can start to figure out and work on the things that are important. As opposed to just blurring the lines and having everything jumble around in your brain. It creates clarity. 
Struggling with burn out?
Here's how to spot the signs and ask for help.
What is your next for Right Aligned?
I'd like to create physical versions of what we're doing online. So, 24 7 growth of chapters – which sounds a bit formal – but is basically about having community leaders within those regions that work to create and integrate themselves into the culture and the economy of that area.
We will have different forms of live experiences as part of that, but on a day-to-day basis, they continue to reach out to studios to make them work towards a combined mission of creating better opportunity to creating more equality and really making it accessible.
I want to have it so that you can ask the questions, and you get what you need out of it. I want young creatives to ask the questions that matter to them. For these events to be a unifier, more than a dictatorship, where I only ask what I want to know from my own perspective.
What's some career advice you wish you'd heard early on in your career?
This is very difficult because when I was first started, extremely shy, but it's just to always ask the question.
Always ask for advice and support.
But it's a very scary thing to do. And I'm saying that now, I wouldn't have been able to do it myself. However, with the rise of social media, it's so easy to access names and studios and businesses that are working within the design industry, through LinkedIn and Twitter.
The majority of people in the industry or in studios, they're relatively easy to find on those platforms. Just by reaching out to them and just asking whatever it is that you need to get off your chest, you start to pick up, real world learning.
I think it's ever so important to understand how things work on a day-to-day basis. The reality of working in design is very fast-paced and there's a lot of things to do and there's a lot of different things to take on board.
So, I'd really advise people just to sort of try and get the confidence just to send a message to somebody.
It might take a while to get back cause everybody's very busy but by being personable and being humane with people, I think you will get a lot of snippets that will really help you understand the general day-to-day workings of design as well as some of the bigger issues if you've got those as well.
Keep up with Chris and Right Aligned
Follow Chris and Right Aligned on LinkedIn to keep up with their latest events and news!
See what Right Aligned have to offer on their website – from workshops, courses, free events and book exchanges, there's plenty to get involved with to support you in your design career wherever you are on your journey! 
Looking for a new role in Creative or Design?
See Salt's open Creative roles around the world!
AU | BE | CA | HK | MY | ME | NL | NZ | SG | SA | UK | USA
Hiring? Salt connects you to outstanding top talent worldwide
If you're interested in hearing about how Salt's top talent recruitment experts around the world can help with your hiring right now, get in touch. Click below to contact the closest Salt team to you!
Keep up with Salt's top talent job market insights and hiring advice! You can keep in the loop by following us on. LinkedIn, YouTube, Facebook, Instagram, Twitter and Spotify.