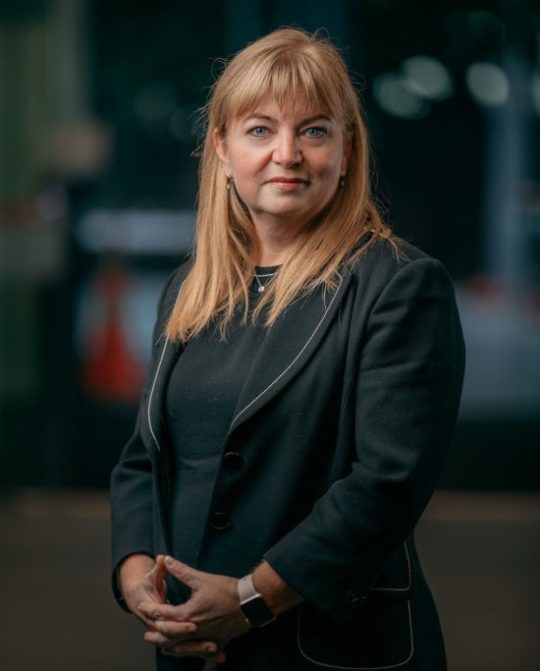 For Salt's latest Women in Tech interview, we caught up with
Geri Ellis, Digital Transformation Consultant, to talk diversity and advice on creating an inclusive workplace.
The #SaltSessions Women in Tech #WiT interview series speaks with thought leaders from around the world to get their opinion and advice on how they have grown their career in tech, and overcome challenges and adversity during their career.
What is your current role and the most exciting part of your work?
My most recent role was Chief Digital and Technology Officer for New Zealand Post, where I was responsible for Digital, Data and IT strategy, and Operations. Having oversight of these three functions allowed me to align and synchronise the delivery of technology end-to-end. The most exciting part of my work was the opportunity to lead the business transformation of an iconic institution that was core to the welfare of NZ Inc. Within my role, my biggest challenge and reward came from driving a "growth" mindset and a cultural shift that enabled individuals to be the best that they can be. Technology is only as good as the people who build it and those that use it, so the focus for me has always been on people and the experiences we create.
What has been your most career defining moment that you are proud of?
There are so many, and it is difficult to single out a particular moment. The biggest change for me would have been completing my MBA, which enabled me to evolve my career from pure marketing/MarTech to whole of business transformation. This led me to work in converging industries and those experiencing mass disruption in a digital economy. From a leadership perspective, switching from private enterprise to a state-owned enterprise proved to be my biggest stretch, but also gave me much reward.
What do you think we should be doing more of to encourage more girls to consider a career in tech?
Fundamentally, I believe we need to upskill and engage teachers and parents who are key influencers in stimulating interest and breaking down perceived barriers around STEM and gender.
Businesses also play an important role in inspiring a career in tech and many companies like Microsoft and Vodafone have implemented fantastic programmes in New Zealand as part of their global initiatives.
What challenges have you faced in the workplace, especially your experience in male-dominated environments?
I've spent most of my career working in male-dominated environments around the world and that has never been a challenge. I believe culture and strong leadership are more important to achieve equality than gender statistics to achieve equality.
There is no doubt that diversity brings many benefits, but it is "inclusion" that achieves progress.
Companies need to create environments where employees are valued for their unique talents and perspectives, thus are involved, respected and connected. When I worked for Microsoft in the early 90s, I did not feel disadvantaged because I was a female, even though the workplace was male-dominated. Other companies that were less male-dominated, proved a lot more challenging from a cultural perspective. Key areas to focus on are awareness of "unconscious bias", psychological safety and creating flexible working conditions.
What is the biggest deterrent in your opinion to women succeeding in the workplace?
We need more role models that women can relate to, regardless of age and status. I believe a key barrier for continued career growth in the workplace, is often parenthood and organisations need to modernise their approach in supporting their employees' development and progress with greater flexibility and financial support. Global research in 2015 suggested that 40% of women took significant time off work and 25% quit their careers altogether to take care of family responsibilities. To reduce women "off-ramping" their careers, we need to remove the widely held believe that parenthood and careers are in direct conflict. New Zealand has one of the lowest parental support allowances in the OECD, except for a few locally based global organisations such as ANZ and Vodafone. Countries like Sweden and the UK still lead in providing progressive parental support.
Ironically, the direct causal effect of the global pandemic, which has enforced remote working (and with children in the background) — may have created a tipping point for work flexibility and will become the new social norm.
Who has been your biggest advocate/mentor in your career and why?
Again, it would be difficult to single out one individual mentor throughout my career as I generally chose to work for people whom I respect. Integrity and authenticity are key values I look for both in the people I hire and who I work for. At a personal level, I would argue that my parents and my daughters have been my biggest advocates — we operate as a cohesive team with unconditional support for each other and no judgement. From a public role model perspective, I'm inspired by the "Gates", the "Obamas", and the many pioneers such as Jeff Bezos who have built their business around the customer experience.
As an employer, what would you recommend to other companies regarding infrastructure to have in place to develop the best talent?
Provide the "space" in the "pace" for individuals to grow and develop both their technical and personal skills. Continuous coaching, especially for people managers and leaders will ensure sustained employee engagement, create strong advocates and result in discretionary effort.
I believe not enough emphasis is placed on providing great employee experiences, whether its onboarding or a great digital workplace. Why should an employee not be able to be as productive in their work life as they are in their personal life? Many software applications do not pay enough attention to designing simple, intuitive and enjoyable user experiences — the assumption being that training can overcome poor processes and user interfaces. AI and automation of repetitive, mundane tasks is ripe for the picking and post-pandemic, I'm sure we will see greater priority given to those investments.
Most importantly, however, is clear and frequent communication.
Visibility and transparency are critical to building trust, staying focused and having a sense of belonging whether you are an employee or a customer.
In a management position, how have you found it best to promote and nurture women's careers?
I'm not an advocate for hierarchy or status, and I always aim to include less experienced individuals in my leadership team to "sit" at the table so to speak. As a direct report, I'm therefore able to coach, mentor and bring fresh perspectives to leadership meetings.
Providing flexible working arrangements provides an environment that allows people to be authentic and true to themselves.
In my last role, the approach taken for a large recruitment drive to insource resource involved anonymising CVs with the aim to provide gender parity across shortlisted candidates.
What are some of the best and worst workplace initiatives you have seen/heard of to help promote diversity?
Unfortunately, some initiatives I have seen have focused largely on diversity targets and that can drive the wrong outcome. Not only is preferential treatment insulting to individuals, but it undermines an authentic approach to improving diversity.
Fundamentally, everyday actions and convictions from leaders and influencers are the most effective way to endorse a company's values and desired behaviours.
How has COVID-19 affected the way you work?
I made the decision to move back to UK/Europe in January to be closer to my daughter during her final years of study — it's crunch time for her and that is where I am needed the most. So coincidentally, the day of lockdown was also my last day with NZ Post and my wonderful team.
This crisis is likely to have significant implications for how companies operate and invest in technology. Many articles talk about "Survive, then Thrive" and I am hopeful that there will be a greater commitment to long-term tech investments, especially in New Zealand, which tends to be skewed to short-term planning. This crisis will not be a one-off global pandemic and life as we know it will unlikely return to "normal" as we knew it before "lockdown".
Companies need to accelerate their digitally-centred business models to capitalise on the rebound of economic growth. The ability to adapt to changing consumer preferences and business models at pace, requires:
1) Courageous leaders willing to experiment and have a commitment to change,
2) Ruthless prioritisation and alignment of initiatives based on outcome (OKRs) not output, and
3) A purpose-led, non-hierarchical culture that creates psychological safety, transparency and collaboration.
These are all the attributes recognised when a crisis is well-managed and yet many organisations seem to struggle with adopting these as part of their DNA when they return to "business as usual".
Over the past decade, I have led several transformations, and they tend to be all-consuming for a two to three year period, so this crisis has been a bit of a circuit breaker for me. I am enjoying the extra "bandwidth" to reflect, learn and think about what's ahead, which will no doubt be challenging, but also exciting.
Lastly, as a compulsive planner, my mind is constantly in future state, mapping out multiple scenarios and causality. This pandemic and with it all the associated uncertainties are currently forcing me to focus more on living a bit more in the present, acknowledging little achievements every day and not feeling guilty for having an unproductive day.
What changes do you foresee in the workplace in the next 12 months?
Culturally, I'm hoping that we will see a greater shift to "servant" leadership, as many leaders will have had time to learn about keeping their teams unified and on the same path in a time of crisis. Courageous leaders will embrace opportunities ahead of us, whilst others may revert to a "command & control" management style, reacting to uncertainty with a focus on cost-cutting.
The obvious changes I foresee will be the acceptance of "remote" working (where possible), less commuting and business travel, and a need to invest in simplifying and automating business processes. In parallel, there will be a greater need to focus on enhancing digital experiences for both employees and customers in order to operate safely, productively and be trustworthy.
Whilst undoubtedly demand for AI, automation and the digital workplace will increase, we must not ignore the fact that humans are social creatures. Many people, including myself need and are energised by physical contact with the people we work with or serve. So, finding the right balance will be critical to manage change effectively.
In terms of prioritisation in a digital world, interactions are usually based on virtual or unassisted self-service and therefore, must be both intuitive and secure. Critical capabilities for any business will be to securely authenticate employees and customers, in order to reduce their vulnerability to cyberattacks, fraud and data breaches. Being committed to and investing in data literacy, data management and adopting a design-led approach is no longer optional and these are skills that need to be enhanced across the entire organisation. At the end of the day, any technology is only as good as the users who choose to use it.
Who is your modern-day hero?
People who are inclusive and embrace collaboration for the greater good.
Any reading/website you would recommend to stay updated?
There is so much good tech content online created by very bright individuals.
For current affairs, I rely on Newshub, BBC and Al Jazeera as a solid news source. For strategic thinking, I consume the regular sources of HBR, McKinsey, Gartner, Ideo, etc. and for inspiration, I regularly watch TED Talks and media streaming events.
In terms of books, I'm working my way through a vast collection of recommend reading accumulated over the past two years — current ones are: Dare to Lead by Brene Brown, A Leaders' Guide to Cyber Security by Thomas J Parenty and Growth IQ by Tiffani Bova.
What is your biggest stress reliever?
Time with family and friends, travelling and a nice buttery Chardonnay. 😊
Is there one piece of advice you wish somebody gave you at the beginning of your career?
Be open-minded and trust: Assume that everyone starts with "positive" intent. Be patient and bring others with you on your journey.
What job did you dream of when you were a kid — your Plan A career path?
I wanted to be a vet or a fighter pilot, but they didn't accept women when I left school. I've always enjoyed economics and psychology, so business and marketing became my career path. I fell into tech in my second job and have never looked back since.
Fun fact about you?
I have never lived in the same house for more than four years. My father was in the air force, so I've always considered myself a global citizen. I spent my formative years in Singapore, so my first words were in Mandarin, most of my youth was spent in Germany, so German initially became my first language, speaking only English at home — sadly, I have not been able to retain that bilingual fluency.
About Geri
Geri is an early digital pioneer with over 25 years' experience in digital, data, IT, and business transformation, combined with a strong background in commercial strategy and marketing roles.
She has worked in several converging industries from IT Software, Publishing, Banking to Telecommunications, and more recently SCM & Logistics. Having worked for corporate brands such as Microsoft, VNU, Three, Bank of New Zealand, Vodafone, and New Zealand Post, her passion has been anchored around driving value by optimising customer and employee experiences enabled by technology.
For the last decade, Geri has focused on building high-performing teams and delivering business transformation for organisations facing market disruption from a digital economy.
Her mantra is to never give up on making the impossible, possible.
---
Looking for some more inspirational reads?
Check out more from our Women in Tech interview series and Females in FinTech interviews .
To shape your future with Salt, a leading digital recruitment agency, send your CV to enquiry@welovesalt.com or use our search to find Technology jobs. You can also keep in the loop by following us on LinkedIn,  Facebook, Instagram and Twitter.