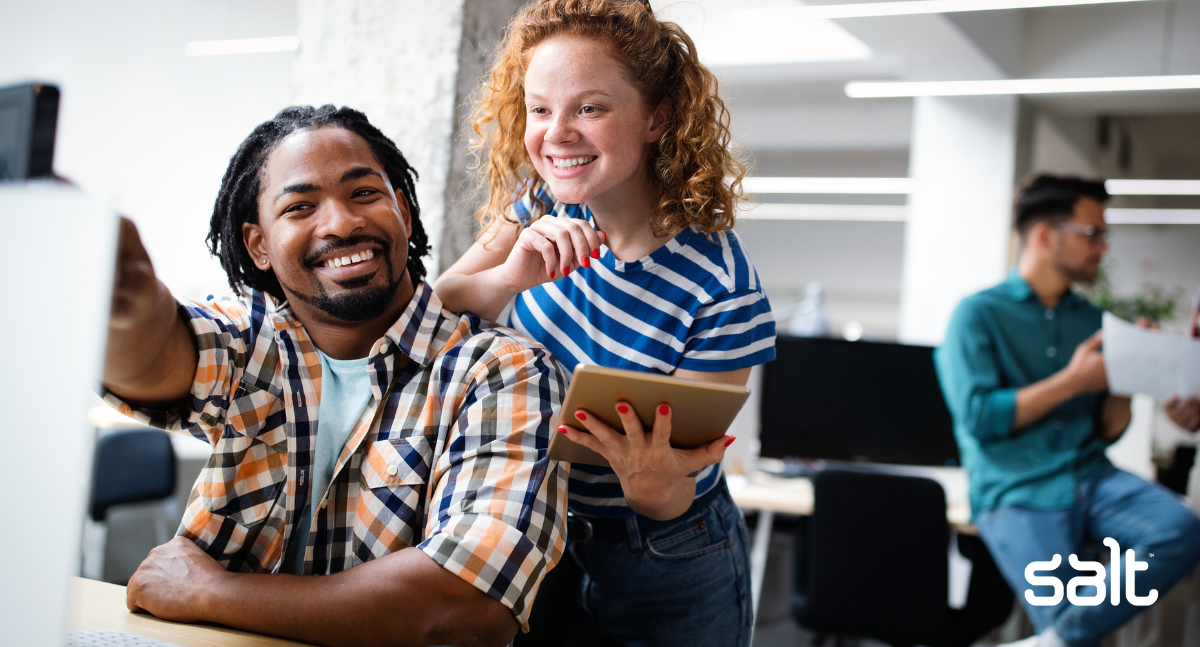 Job specifications are a crucial part of your recruitment process – not just to attract capable candidates but also to properly signpost to them who you are and what the experience of the role will be like. A good job spec increases your match rate and helps a candidate commit to applying to work with you!
Every job is different. Every company is different. There's no clear set of rules or template that is going to convey everything you do, and how you do it, to potential candidates. So no, this guide won't write your job specification for you! It will however help you write a job specification that attracts amazing talent for your vacancies, and helps you face the talent shortage head on.
What is the difference between job specifications and job descriptions?
Whenever you're hiring for a new position, you'll need to write what's known as a job specification – often shortened to job spec. This is where you outline the qualifications, experience, and skills you need in that role.
Job specifications are different to job descriptions, though in some places in the world they're terms that are used interchangeably. A job specification and a job description are doing different things in the hiring process:
A job description outlines the role itself, the responsibilities of the role, and the different work relationships around the organisation. It's more about explaining what the job is and what it'll entail.
A job specification explains what you're hiring for, which gives candidates going for the job a clear idea of what you value and what you're seeking in your next hire.
Salt's guide to writing a job specification
Our guide will help you prioritise what matters most when hiring a new role, and help you take a step back and reconsider your job specs of the past. Many Job specification guides don't address biases, with qualifications and certifications easier to measure than transferable skills and experience-based skills. This can lead to talented people being overlooked or not applying for jobs they could excel in. To increase diversity and talent in your workforce, consider addressing these biases. Want to diversify your workforce and broaden your talent pools? Consider a skills-based hiring approach.
Every job is different, so is every job specification! There are many ways to write a job spec, and what's most important depends on the specifics of the role you're hiring for.
Why is it important to have a good job specification?
A good job specification is both an opportunity to showcase what you value in a new hire and prepare the candidate pool to present their experience and skills within that framework.
It helps candidates get a sense of what you are as a manager, your team and your organisation are seeking so they can make a decision early on whether that matches up to what they're looking for in their next role.
A well written job spec:
Increases your match rate with a clear idea of what you're seeking.
Encourages candidates to share the right information about their skills and experience with you to help build a clear picture of them as a potential hire.
Helps you prioritise applicants to interview based on the requirements you've set in advance.
Shapes the interview process for both the interviewers and the interviewees – as interviews and further stages of the application are modelled on the points listed in the job specification.
Think inclusively about your job specification
It's a sad truth that the hiring process is a key way biases in the workplace are perpetuated. Job specifications can both perpetuate bias and interrupt it. Here's how.
As digital specialist recruiters, Salt know first-hand how traditional recruitment processes and templates can exclude certain candidates and narrow your talent pool. This fast-paced industry is full of diverse backgrounds, self-taught or self-employed talent, international candidates with different qualifications, and talent moving from other industries and roles as digital skills become more integral to traditional roles.
Listing what you're looking for in a new hire can also mean excluding very talented individuals from your candidate pool that could bring a lot of value. These lists signpost to candidates the biases your organisation might hold. What you value and how you screen candidates can be more telling than your About Us page or Diversity statement.
By clearly outlining the skills, experience and traits you're looking for in an inclusive way you can help attract a broader pool of amazing talent as well as interrupt bias at interview stage.
It's very possible the right candidate for the role looks or acts differently to what you envisaged writing the spec, or the person who was in post last. By identifying requirements based on the role itself, you clearly outline the parameters for success to both the interviewers and the interviewees, so they can evaluate each candidate across the same areas.
Successfully meeting the requirements you've laid out can look different across each candidate – and by outlining the need in the job specification you provide a framework for interviewers to evaluate different experiences more evenly. It might be that the 'best fit' has a very different set of experiences than expected but provides the most value and promise to your team.
What to include in your job specification template
An important exercise when writing your job specification is to ask yourself questions. The key one being 'Why?'. For example, is there a good reason for requiring a university degree in your new hire? Or could the skills you're looking for be developed outside of Higher Education?
The following is a template checklist to help those researching how to write a job specification.
1. Education
Educational qualifications are frequently the first thing candidates look for in a job specification.
If a degree or diploma is required for the role, make it clear that it is a requirement and list the qualifications and grades that are necessary. If apprenticeships, work experience or other certifications can substitute, also make that clear within the list. Pinpointing the quality or skillset you require outside of a determined level of education can help to determine what evidence interviewers should be looking for to determine not only a candidate's skill level but also their potential and what they'll bring to the role.
Consider what over-qualified and under-qualified candidates present as for the role you're hiring for. If it's an entry-level job, do potential applicants really need a Bachelor's degree?
To reach more diverse talent pools, it should be noted that education, particularly University education, is expensive and takes time. It does mean reducing the pool of candidates you see.
Being accepting of equivalents to degree qualifications or work or volunteering experiences can mean reaching talented candidates in other countries or of less fortunate backgrounds, who are frequently overlooked by competitors and other hiring initiatives.
2.  Other work credentials
Lots of jobs require work credentials that are considered by some to be outside the traditional remit of education. 
In the digital sector, where Salt specialises, this could be certifications proving a developer's ability to code in a specific language or a designer's ability to use a specific system. Clearly list any other required credentials alongside any educational requirements for the role. But also consider that certifications can be costly and time intensive.
With more and more free resources accessible online, it's very possible for a candidate to be self-taught and without a certificate to demonstrate their skill. They could also have learnt from experience in other roles or by volunteering. Having a practical stage of the interview process testing each candidates' skillset could be more inclusive.
While it's OK to ask for certifications in the job specification, you could also mention that you'd be accepting of a portfolio or a GitHub link as well or instead, or that you test for ability as part of the process and a certification isn't mandatory.
3. Work experience
For certain roles you're hiring for, you might require candidates to have a certain number of years' experience within a similar role, or with specific tasks and tools. Frequently there is preference for that experience to be within the industry or market.
Make sure this is clearly outlined early in the specification, and whether it's an essential for candidates applying. Rather than years' experience, taking a skills-based approach to hiring broadens your talent pool. If you're requiring experience in a similar role or in the same industry, consider transferrable skillsets.
In a tight, competitive job market, there's competition for the right talent. The skills you're looking for could be working in other roles or industries. Consider this to also benefit from a different perspective and set of experiences.
4.  Other skills and abilities
List skills and abilities required for the role itself – and which of those are essential. If you're not sure, re-read the job description and speak to those working closely with that role to create a list of required skills.
Remember that anyone you hire could also develop the skillset in post. Candidates might be using different tools and platforms with the same function as those you use or be in an industry or sector that has different terms for the same skillset. This allows them to adapt quickly to the needs of the role, even if they don't have outright experience to start with.
Consider again what evidence you need to qualify candidates applying, then interviewing. Instead of asking for a certification or qualification, you could instead ask for examples and results based on their experience.
You could also mention what training, learning, and development is provided – if previous experience isn't required – to attract talent you can grow and develop in-house and on-the-job.
Finally, think inclusively. If the job requires travel or mobility or set office hours then communicate that clearly. Candidates with disabilities, in different geographic locations or with caring responsibilities will need to consider these to apply – and if concessions will be made to support their needs.
5. Personality traits or work style
You're not just hiring a skillset; you're hiring a person. Someone that will be working directly with you and your team and your stakeholders, and who will represent the organisation.
Defining the person beyond the skillset in the job specification provides a clearer picture of what this role is like as an experience – which is crucial information for candidates applying.
To find ideas of what to include:
Speak to your existing team. How would they identify the team workstyle?
Speak to your colleagues. How would they describe the culture at work?
Read your company vision and values and identify traits that compliment them.
Be cautious of looking for a 'good fit' – every human has confirmation bias and you'll be predisposed towards traits similar to your own or that you're familiar with. This could mean missing out on amazing talent that diversifies your team and broadens your perspective as a whole.
For example, neurodivergent candidates have qualities such as innovation, creativity and data driven decision making in spades, but are frequently discounted at interview stage when they present in a way that the interviewer isn't as comfortable with.
Jennie Child, founder and director of Balance, recommends in her interview with Salt a simple change you can make today: diversifying your interview panel.
"Typically, when we put panels together, they tend to be a group of individuals from the same function from the same department. In some cases, it might be joint hiring managers. These tend to perpetuate 'group think' – where individuals with the same perspective don't challenge each other."
– Jennie Child, founder and director of Balance
Read or listen to her interview with Salt
Craft the perfect job specification with Salt.
Job specifications are as different from role to role as they are from company to company. There are so many different factors to consider and taking the time to craft and tailor a spec to your needs takes time and consideration. It's never a copy and paste job!
We at Salt understand how challenging it can be to explain what you need, who you are and what you do to potential candidates, and to attract a pool of talent that meets those requirements.
Our consultants are experts at talent acquisition in different markets and countries across every area of Digital. We're dedicated to diversity and inclusion at every phase of recruitment – from attraction to onboarding. For advice and support with your hiring strategy, contact us below.
Hiring? Salt connects you to outstanding top talent worldwide
If you're interested in hearing about how Salt's top talent recruitment experts around the world can help with your hiring right now, get in touch. Click below to contact the closest Salt team to you!
Keep up with Salt's top talent job market insights and hiring advice! You can keep in the loop by following us on. LinkedIn, YouTube, Facebook, Instagram, Twitter and Spotify.